Verde is the holder of the Lightning Arcobaleno Pacifier, and his animal partner appears to be a crocodile or alligator named Cayman. Verde was briefly mentioned by Reborn as the person who sent assassins to kill Tsuna. Apparently, Verde has knowledge about camouflage and invisibility, so he gave his subordinates Optical Camouflage suits that are able to make them invisible to everyone but children. Verde believed that he should be able to see his subordinates in case they ever tried to sneak up on him in an attempt to kill him. Verde is also one of the three scientists who developed the Box Weapons in the Future, where he is said to be dead.
In the anime during the Arcobaleno Trials Arc, Verde was said to break the Arcobaleno "pact" after he immobilized the other Arcobaleno (including Lal Mirch), which states that the Arcobaleno cannot attack each other; otherwise, all the other Arcobaleno are given permission to attack back, causing internal strife among the Arcobaleno.
Character outline
[
]
Personality
[
]
Being a dedicated scientist, Verde doesn't seem to care about anything except his experiments. Once he set his mind on something that can be used for his research, Verde would do whatever it takes to get it even going as far as to destroy anyone who would resist, including the other Arcobaleno. He also dismisses the notion of curse as it's illogical, though later is forced to accept it. Unlike most Arcobaleno, Verde doesn't care about being cursed into a baby since all that matters is that he can continue his research. Despite his many negative qualities, he will repay debts that he owes.
Appearance
[
]
He is a bespectacled man with spiky green hair and purple eyes. Like Doctor Shamal, Verde always wears a long, white lab coat.
Weapons and abilities
[
]
Equipment
[
]
Techniques
[
]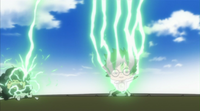 Notable inventions
[
]
Trivia
[
]
References
[
]