The Varia Rings are A-Rank Rings held only by the executive members of the Varia. They can accommodate any attribute of Dying Will Flames of the Sky.
The "old set" of Varia rings are the rings shown 10-years-later. They were uniform in design, silver with the Varia's sigil on it:  a two engrailed top shield painted red, with seven birds near the top, a  banner with the name 'Varia' written across it. and a target-like relief under the banner indicating the shape of an 'X',
The Varia Rings are manufactured from the most valuable assets of the Vongola Famiglia. Less than 10 of these "Fragments of the Rainbow" (虹の欠片, Niji no kakera?) were left behind by Vongola Secondo.[1]
They were created by Totem Ross, Varia's jewelry designer after Xanxus became the boss. During the making, Totem's designs were rejected by Lussuria 100 times before settling on the final design.[1] The reason was that Lussuria didn't like the manly "whoa" he would say when he tried on the ring.
A Cloud Ring was never made.[1]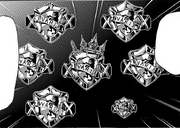 Before the Representative Battle of the Rainbow, Mammon spent their entire fortune to get Talbot to make new Varia Rings. Although the price is never stated, according to Lussuria, the new Varia Rings are expensive enough to buy an island.[2]
These new rings contain artificial animal-weapons just like the animal-type Box Weapons from 10-years-later; are similar to the 10th Generation Vongola's own Animal Rings. The Rings also have a new function that allows them to perform Cambio Forma, as seen with Xanxus' Bester.[3]
Although the Varia do not have a Cloud Guardian, seven new Varia Rings were made by Talbot.
Community content is available under
CC-BY-SA
unless otherwise noted.