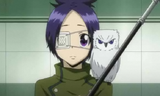 Chrome
: T-This is the... talk page for the page Kurochinoame/Hibari's Can't Die Yet!!!/@comment-1902993-20100814111243.
This space is for discussing changes to the page. Speculation is not allowed on our talk pages and all questions regarding the series should be directed to
Discussions
, where all your questions will be answered.
Hehe s'okay! hihihi I skip chapters now and then :) maybe i skipped that... :D
Community content is available under
CC-BY-SA
unless otherwise noted.