About Me

Edit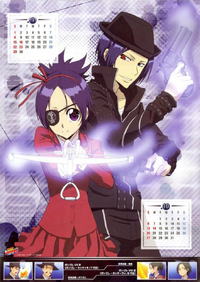 Konnichiwa, Minna-sama! You can call me Herleen (it's a part of my first name). Well, I'm a very enigmatic person (I can't even understand myself)... There's a thing about myself that I am 200% certain - I am a person of denial. I don't recognize a problem as a problem but unconciously, I am already affected by that certain problem. I am dense (on various things). I prefer being alone or with few people rather than a crowd. I am also fond of animals (especially if their cute). I'm somewhat alike with Hibari-san except for being part of a committee, being that carefree. I am not that deadly as him. Our fondness towards animals, our aloofness, ideals in life made me somewhat same as him.
My Existence
Edit
I have accounts on different websites but mostly about informations (for my studies) and anime. I also have a  Facebook account. You can add me (just leave a message here). I don't have a Twitter account (it's annoying). I do own Facebook RP Pages but unpublished them. I'm real busy in this time of the year.
My Hobbies
Edit
Most of my time is spent with reading pocketbooks and online fictions.
Reading manga and downloading them as well. I am still downloading HD episodes of KHR... I plan to re-watch them all if I have free time.
On the Deepest Part of My Mind
Edit
Well, I don't know... (I haven't went there xD)... Well, my mind is filled the pressure that the school has done. I'm just taking a little break... Maybe this summer I will know what I want and going to do.
My favorite pages
Edit
Most of my Favorite Pages contains information about my fave characters. Here's some of them
My Favorite Characters
Edit
I have fondness of many characters but here's a few.
Hibari Kyoya - I love his ideals and personality. ♥
Kikyo

 - Present Kikyo is so handsome! And I also love his Image Song and his Seiyuu, Kazuki Kato.

Natsu (Version X)

 - So cute. ♥

Kozato Enma

 - So cool, even though he's kind of silent. He is oozing with charms.

Demon Spade

 - So handsome!

Elena

 - So beautiful! I also admire his love for Daemon.
KHR Collections
Edit
I have different collections of KHR
Calendar (it's still incomplete though)
ReboCon 1-5 (2008-2012)
Manga (excluding Special Volumes)
Anime (HD, Incomplete)
OP, ED and Image Songs (complete)
Community content is available under
CC-BY-SA
unless otherwise noted.