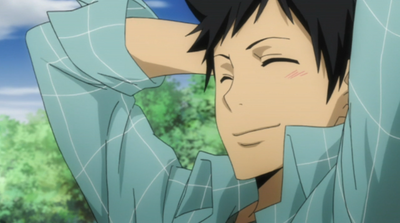 我の世界へようこそ (:
discontinuing everything on top of this page... though i will definitely still recommend you songs, if you ask!
the last episode was a good one... decent way to end the series.
someday, when i have time, i'm going to revisit the past and dig up every single picture i ever uploaded... probably winter break xD
currently working on
these are my current projects:
making good synopses for the episode pages
the overall grammar of the wikia
adding more info onto pages
fixing the song pages' spacing and lyric translation
making character song pages
making chapter pages/summaries!
about me?
i like making lists, eating, listening to music, and correcting grammar. oh, and sleeping.
my gender is as up to question as you want it to be; same goes for my age. i'd prefer to not reveal either.
relatively new fan of reborn, unfortunately: only since last winter did i get addicted.
i procrastinate so much, it's not even funny.
i go on random editing montages when i wake up early or am bored.
currently, i can speak: english, chinese, so-so spanish, and learning japanese. korean is queued though, so watch out!
if you've got any good suggestions for new mangas/animes [preferably manga first], i'm always up for them! genre and whether i have time or not is no matter.
what i've done
adminship - 9.26.10
1000 edits - 5.26.10
2000 edits - 7.9.10
3000 edits - 8.23.10
created:
a bunch of the character songs [though i do like cleaning them too!]
some of the chapter pages