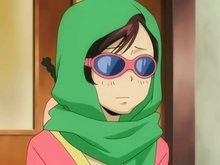 About me
Edit
One should be careful, when one tests anothers mental abilities.
When In doubt Pinkiez Out!
I never said I was perfect, but I did say I was awesome <3
Name:Nutzie (http://www.youtube.com/Nutzie22)
http://www.fanfiction.net/Rechiru22
Age: 12-20
Location: My bed room,Ireland.
Flame Type: Storm (Tempesta)
Occupation: College Student & Shop assistant
Appearence: I'm cross between Haru(TYL) with I-pin(TYL) grrrr...
Hobbies: Browsing, Fencing(Swordsman ship) and watching anime
Favourite Characters:
1.Xanxus
2.Squalo
3.Dino
4.Funeral Wreaths(except Monk-man)
5.Lancia
I'm also on fanfiction.net as Rechiru22, and on facebook.
If needed edit a note for me on my page or leave me a message. I do like to make friends, I don't bite except when defending a chocolate muffin from Xanxus, yes a muffin from Xanxus. It's my muffin!!!!!!!!!!
My favorite pages
Edit
Community content is available under
CC-BY-SA
unless otherwise noted.