Im new here, and I'll give you information about KHR episodes with the screenshots, I have collected. This will help you understand futher.
You can also add me on my facebook account: http://www.facebook.com/josravena
You want a screenshot relating KHR episodes, I'm the right man for the job. Or if you want to be friends, its fine
I don't like a person who Insults and discredited my works, If that ever happens, I will kill you with my sw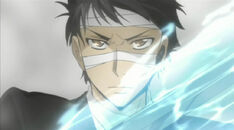 ord. One thing, Don't edit my profile plssss..
Sorry, About the death Aura. I'm also an understanding person, Just tell me what you need and i can do whatever i can to help.
I can provide any information that I can and make it an awesome information.
I'm just high schooler almost closer to my life and then the survival will begun, I might as well enjoy it while it last.
I'm also a fanfic writer at Fanfiction website, I also have some different stories aside form KHR. http://www.fanfiction.net/u/2702820/ But be warned, Some stories have YAOI, Be careful.
1. Once upon a Vongola - (In-progress)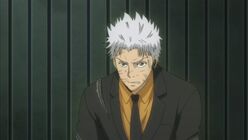 2. Puberty Blue - (Complete)
3. The Ray of Light - (Complete)
4. Fever - (Complete)
5. A Not So Silent Night - (Complete)
6. Someone to lean On - (Complete)
7. My Secret working Crossover (Secret) :P You'll know at the end of the year
Yaoi pairing I enjoy and Support.[edit | edit source]
Yamamoto X Gokudera (8059)
Yamamoto X Tsuna (8027)
Yamamoto X Ryohei (8033)
Tsuna X Ryohei (2733)
Ryohei X Hibari (1833) TYL only! hehehe!!
My Favorite Characters in KHR:[edit | edit source]
Takeshi Yamamoto - He's my favorite ring user because I admire the way he fights with his Shigure Kintoki and when he is in a serious face (Too cute).
Ryohei Sasagawa - He's my favorite because he may be a low brainer but he is a great friend and deeply cares about his friends and family, plus He's older self is...HOT!! (LOL)
Tsunayoshi Sawada- (HDWM) - He's my favorite character because he maybe weak, But he has a huge potential as a student and a boss of the Vongola family.
Community content is available under
CC-BY-SA
unless otherwise noted.