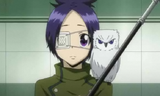 Chrome
: T-This is the... talk page for the article X-Burner.
This space is for discussing changes to the page. Speculation is not allowed on our talk pages and all questions regarding the series should be directed to
Discussions
, where all your questions will be answered.
does the x-burning have the Harmony factor?Sasori soul 18:26, January 19, 2011 (UTC)
No, while it's never been outright said, it's been strongly implied that it takes a Box Weapon to manifest a flame's properties (with the exception of Mukuro's Path of Hell, which does let him create real illusions without a box weapon). Phoenix of the Darkness 20:29, January 19, 2011 (UTC)
x burner variation
Edit
we must add the type of x burner like the x burner air?? Nitram86 22:16, May 7, 2011 (UTC)
Community content is available under
CC-BY-SA
unless otherwise noted.