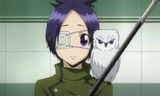 Chrome
: T-This is the... talk page for the article Tri-Ni-Set Counterpart?/XIII-DARKNESS-20100905032835.
This space is for discussing changes to the page. Speculation is not allowed on our talk pages and all questions regarding the series should be directed to
Discussions
, where all your questions will be answered.
Possibly, the thing i wonder is. What would of happened if Byakuran got his hands on the Shimon rings
Community content is available under
CC-BY-SA
unless otherwise noted.