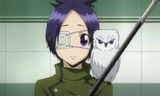 Chrome
: T-This is the... talk page for the article Takeshi Yamamoto.
This space is for discussing changes to the page. Speculation is not allowed on our talk pages and all questions regarding the series should be directed to
Discussions
, where all your questions will be answered.
Yamamoto Takeshi The 2nd Strongest Guardian in Tsuna's Family Learn many styles and Moves Like Attaco di Squalo (Attack of the shark) and many more

please excuse me for what i am going to say, WHO THE BLOODY HELL IS MESSING AROUND WITH THE DAMN WIKI, A LOT OF US DO THE BEST WE CAN TO MAKE VERY ACCURATE, AND WE SPEND HOURS TO MAKE A PAGE FOR ONE CHRACTER, NOW YAMAMOTO'S PAGE IS SCREWED BECUASE OF UNREGISTERED CONTRUBUTORS.
I'm sorry, whats wrong with the page? Arake 09:55, March 27, 2010 (UTC)
hi there, umm . . I really wanna do a bit of editing on the Takeshi Yamamoto page but I'm not allowed to for some reason. I won't mess around with it, i just wanted to add something in the trivia section. Can the person who locked it or whatever unlock it for registered people?
Loveofvongola 20:45, March 27, 2010 (UTC)Loveofvongola
Do you think that fong would chose him to represent for him at the curse of the rainbow
Kyousuke-sama 10:29, September 13, 2011 (UTC)
Why is there no Appearance on the page? JupiterTheKiller 12:40, June 17, 2012 (UTC)
This one time that I had tried to search for Takeshi wiki page and now that I go to it there is one, plus before it tried to send me to Takeshi's father wiki page. So I'm glad the someone decide to make a Takeshi wiki page, plus I like Takeshi's happy-go-lucky personality. Fox Kit Princess--Fox Kit Princess (talk) 01:20, March 11, 2015 (UTC)
"Batting" isn't a position in baseball.  All the starting players get at bat attempts.
Community content is available under
CC-BY-SA
unless otherwise noted.