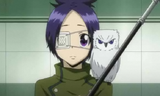 Chrome
: T-This is the... talk page for the article Shoichi Irie.
This space is for discussing changes to the page. Speculation is not allowed on our talk pages and all questions regarding the series should be directed to
Reborn Answers
, where all your questions will be answered.
Lambo's Package
Edit
Actually, the package was seen in one episode, during the future arc. It is in his laboratory.
Cuarta espada 13:39, 18 May 2009 (UTC)
Well mistake his flame is sky not sun....
Edit
well its a mistake becuase of the choice but his flame is SKY and not sun
Future Height
Edit
Its 5'10 Thats how tall he is in the future!~http://community.livejournal.com/byakushou/34432.html There is my proof!
I see that the page stated Byakuran to be Shouichi's partner (and married to... and engaged to... lol). Based on Chrome9669's answer on Character Outline's talk page, would it be alright if I add Spanner as Shouichi's partner? Because they're working together in the future and in the current arc... MoonlightSelenia, the undefeatable fangirl. (talk) 15:13, March 19, 2012 (UTC)
shoichi in the present
Edit
in the last chapiters yuni said that irie of the present can use his flame tu cure byakuran and the others...he have the fake mare ring??Nitram86 17:18, March 19, 2012 (UTC)
Mother and Sister
Edit
I know at least in the Anime, Shoichi's older sister and mother are shown. Strangely, it doesn't seem like either of them have their own page. Why?49.48.21.207 21:48, October 26, 2012 (UTC)
Community content is available under
CC-BY-SA
unless otherwise noted.