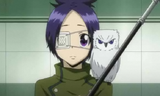 Chrome
: T-This is the... talk page for the article Reborn! VOMIC.
This space is for discussing changes to the page. Speculation is not allowed on our talk pages and all questions regarding the series should be directed to
Discussions
, where all your questions will be answered.
Seiyuu of Simon Family
Edit
My post concerns the notion that all seiyuu except Simon (Kouki Uchiyama) and Koyo's (Ryohei Kimura) are new to the industry... I've actually heard of Lyrian before. She voiced one of the main characters in Transformers: Kiss Players (a radio drama) back in 2006. It predates Reborn! VOMIC by four years (though her being a moe idol at the time sort of defeats the whole "seiyuu" argument, doesn't it? XD).
Not trying to make anyone change anything here, just thought about offering this piece of trivia~ Death Goddess Raiden 22:33, July 11, 2012 (UTC)
Not to be offensive, but where is this coming from? Clearly in the trivia it states that "All the seiyuu of the Simon Ring Holders, except Enma and Koyo's, are new Reborn! seiyuus." Meaning that are new to Reborn! not the industry itself. It's a nice piece of trivia, but it's kind of pointless unless there was a page for the seiyuus of KHR. Fiamma di Armonia - Sky ♥ Chrome9669 01:54, July 12, 2012 (UTC)
Actually all seiyuu of the Simon Family, including Enma and Koyo's, were new to Reborn! since they appeared in the VOMIC for the first time. It makes no sense to suddenly exclude Enma and Koyo's seiyuu since they've never appeared in Reborn! before this. The whole wording of that trivia just made me certain that they meant the seiyuu were new to the industry, not the series itself. >.>
Death Goddess Raiden (talk) 22:22, October 6, 2012 (UTC)
Community content is available under
CC-BY-SA
unless otherwise noted.