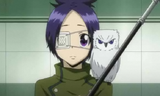 Chrome
: T-This is the... talk page for the article Leone di Cieli ver. Vongola.
This space is for discussing changes to the page. Speculation is not allowed on our talk pages and all questions regarding the series should be directed to
Discussions
, where all your questions will be answered.
The anime debut of Nuts is episode 167 RootOfAllSorrow 19:51, January 18, 2010 (UTC)
the Vongola Sky Box Weapon is perfectly called NUTS, I would reject the idea of calling him Na-Tsu Rolo Lamperouge
Meh, another anime/manga difference. No biggie really. Btw, does VIZ call him Nuts or Nutsu, cause fan translations can be wrong...World Cup '10 EEENNNNNGGLLLLAAAANNNNDDDD (AlienGamer ⁝ Talk) 10:25, June 25, 2010 (UTC)
the name
Edit
in italia leone di cieli is scorrect in italian the name is leone dei cieli and in the anime tsuna said leone dei cieli Nitram86 21:33, April 17, 2011 (UTC)
Community content is available under
CC-BY-SA
unless otherwise noted.