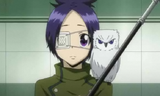 Chrome
: T-This is the... talk page for the article I-Pin.
This space is for discussing changes to the page. Speculation is not allowed on our talk pages and all questions regarding the series should be directed to
Discussions
, where all your questions will be answered.
Um i know it says so in the manga and in the anime but i still dont get it. How can a 15 year old go to collage? I mean Tsuna is 15 but he is still in junior high
I-Pin must be super smart to go to college at age 15.
99.247.95.180 21:12, October 25, 2011 (UTC)
Community content is available under
CC-BY-SA
unless otherwise noted.