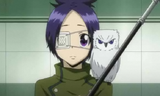 Chrome
: T-This is the... talk page for the article Gamma.
This space is for discussing changes to the page. Speculation is not allowed on our talk pages and all questions regarding the series should be directed to
Discussions
, where all your questions will be answered.
More suitable here.
I said dont kill him off in the Personality section. Spoils it for ppl, read more into the plot for details on his death, or if he died.
Dont know what he was like wen he worked for Aria, we saw very little of him, and he had no connection with innocent ppl. He did evrything under Aria's orders.
Another series...Not relevant. Its a Voice Actor, how many characters, in how many series do u think he has voiced?
I'm kinda suprised Kissama. Thought u were more sensible than this. Specially the trivia part...AlienGamer (userpage ⁝ talk) 14:24, July 6, 2010 (UTC)
Ya fine..AlienGamer (Userpage ⁝ Talk) 15:48, July 6, 2010 (UTC)
Community content is available under
CC-BY-SA
unless otherwise noted.