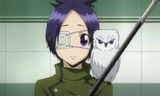 Chrome
: T-This is the... talk page for the article Delfino di Pioggia.
This space is for discussing changes to the page. Speculation is not allowed on our talk pages and all questions regarding the series should be directed to
Discussions
, where all your questions will be answered.
Something about those bits about Alfin's brain being coated in Rain Flames and to it responding to Basil's telepathic commands strikes me as odd. Does anyone has the source for these? Libra00 21:35, July 24, 2010 (UTC)
The latest anime episode said something about the telepathy with box animals thing..Is that what your talking about?..AlienGamer (Userpage ⁝ Talk) 21:54, July 24, 2010 (UTC)
Just adding to AG that the manga also talks about it...if that's what your talking about. The one that hovers over the Wiki... Chrome9669 22:28, July 24, 2010 (UTC)
Community content is available under
CC-BY-SA
unless otherwise noted.