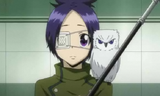 Chrome
: T-This is the... talk page for the article Bloody Twins.
This space is for discussing changes to the page. Speculation is not allowed on our talk pages and all questions regarding the series should be directed to
Reborn Answers
, where all your questions will be answered.
Lightning
Edit
How do we know they're lightning?..AlienGamer (Userpage ⁝ Talk) 20:17, July 19, 2010 (UTC)
Spelling Mistakes
Edit
I would like to point out that this page has spelling mistakes, like when they said Djidji was impeded by Shamal, the spelling was Didi. And on the page, they put I-Pin's move as Haisangen when it is actually Daisangen. 暗い夜 DarkNight (Talk To Me!) 13:14, December 1, 2010 (UTC)
Didi and Gigi
Edit
Not proposing that we rename the page (that's fine), but instances of where their names pop up. YazzyDream★
01:21, December 7, 2019 (UTC)
Community content is available under
CC-BY-SA
unless otherwise noted.