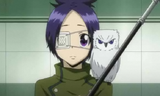 Chrome
: T-This is the... talk page for the article Bermuda von Veckenschtein.
This space is for discussing changes to the page. Speculation is not allowed on our talk pages and all questions regarding the series should be directed to
Discussions
, where all your questions will be answered.
Name Capitalization
Edit
So the page's title is Bermuda Von Vichtenstein, but I think that "von" was something like "of" in English. For example, if you were to say "Tsuna of Namimori", the of wouldn't be capitalized. Since I've seen "von" before, and it hasn't been capitalized, I'd like to change it to a lowercase letter. Can you please voice your support or opposition?
Support - ChaosVoid's reasoning is true. I agree.

GXSG

☼

-

[▒▒▒]

00:33, March 10, 2012 (UTC)
Adult picture
Edit
i add the picture of his "adult" form but i'm not sure if is right say adult because he look like a kid even after the relase so is better change in something like uncursed or follow the other arcobaleno pages and say adult?? Nitram86 (talk) 08:29, September 12, 2012 (UTC)
but hes so cute!!!74.130.231.46 01:38, February 14, 2013 (UTC)
unregister user modification
Edit
somebody can block this page?? there is a unregister user that delete part of the page or all the page Nitram86 (talk) 13:31, September 19, 2012 (UTC)
Community content is available under
CC-BY-SA
unless otherwise noted.