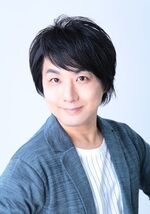 Takashi Kondo (近藤 隆, Kondō Takashi?) (born May 12, 1979 in Okazaki, Aichi Prefecture, Japan) is a Japanese voice actor affiliated with Vi-vo. He provides the voices of Kyoya Hibari, Fon, and Alaudi in the anime adaptation of the Katekyo Hitman Reborn! series. Kondo reprises his roles in the subsequent video game adaptations, audio dramas, and character songs.
Roles
[
]
Anime and video games
[
]
Music
[
]
Events
[
]
Katekyō Hitman Reborn! Vongola Saikyo no Carnival in Taiwan
Background
[
]
Kondo has provided voices for several popular characters such as Suigetsu Hōzuki in Naruto: Shippūden, Hibiki Lates in Fairy Tail, Subaru Sakamaki in Diabolik Lovers, and Hayato Hayama in My Youth Romantic Comedy Is Wrong, As I Expected. He also voiced Ken Mizoguchi in ēlDLIVE, another series by Akira Amano.
For the second annual Seiyū Awards, Toshinobu Iida and Takashi Kondo each received a nomination for "Best Musical Performance" for their music theme "Sakura addiction."[1]
Gallery
[
]
References
[
]
External links
[
]