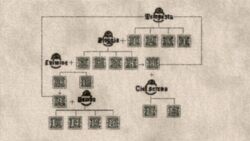 The Sistema C.A.I. (SISTEMA C.A.I., Sisutēma Shī Ē Ai?) is a set of 16 Box Weapons that function in synergy and can combine and quickly interchange between each other. Short for Sistema Cambio Arma Istantaneo (カンビオ・アルマ・イスタンタンアオ, Kanbio Aruma Isutatanao?, lit. Instantaneous Armament Change), the set is composed of 4 Storm-attribute Boxes, 2 Lightning-attribute Boxes, 4 Rain-attribute Boxes, 2 Sun-attribute Boxes and 4 Cloud-attribute Boxes. Along with the Skull Rings, Gokudera's battle gear has all of the Boxes around his waist.
Description
[
]
Initially, it was sealed in the form of a puzzle involving the Boxes and the Skull Rings that came along with it. Once a certain Box was opened, it would release one of the Skull Rings along with its contents. The said Ring would then be used to open a Box of its corresponding attribute, which also had another Skull Ring inside. This requires not only the knowledge of the order of opening the Boxes, but also possesses the Dying Will Flames required to light up the rings.
Gokudera's Vongola Box Weapon integrated the Sistema C.A.I. and the Gatto Tempesta in its upgrade. All of the 16 Boxes of the Sistema C.A.I. are stored inside of the Vongola Box. When opening the Box, only the Gatto Tempesta ver. Vongola is released and the other Boxes are placed unopened around Gokudera's waist.[1]
Components
[
]
Storm-attribute Boxes
[
]
Rain-attribute Boxes
[
]
Sun-attribute Boxes
[
]
Cloud-attribute Boxes
[
]
Lightning-attribute Boxes
[
]
Trivia
[
]
References
[
]