Template:Weapons A Ring in the Simon Ring set was first shown when Enma was picking up his textbooks with the help of Tsuna. It was hanging from Enma's neck, similarly to the way that Tsuna carries his Ring. His eyes resemble this Ring. Another ring was shown when Kaoru Mizuno ignited a Ring in his possession and impaled Yamamoto with it. It has been revealed that by pouring the "Sin" of Vongola, which is also known as the first Simon Family's Boss's blood, the Ring is unlocked to display the Simon Family's hidden power, turning into weapons. They belong to the Simon Famiglia, and are called the Earth Rings. They have a power that can rival the Vongola Rings.

The Shimon Rings are currently worn by:
Trivia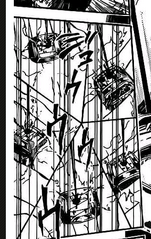 It would seem that the Simon Rings are wrapped by small cloths that contain the Vongola Symbol crossed out with "delitto" written on it.
The Simon Rings were buried in Cozart Shimon's grave, and were found after the earthquake that transported Tsuna's Family into the present.
Enma's Ring seemed to have transformed to a gauntlet of some some kind when he dripped the blood from the Vongola Sin on it. It is also shown that the other Simon Rings turn into weapons.
The Flames produced by the Simon Rings are different than any other Rings, as they are called the Dying Will Flames of the Earth, while the commonly seen Flames are called the Seven Sky Flames.
Community content is available under
CC-BY-SA
unless otherwise noted.