Shitt P! is a member of the Simon Famiglia and is an eccentric girl from Simon Middle School. She, along with her other family members, transferred to Namimori Middle School after an earthquake hit their area because it is relatively earthquake free and is invited to the Vongola's Inheritance Ceremony as guests.
Appearance
Edit
Shitt P! has the most eccentric look amongst the Simon Famiglia. She is always seen wearing two large inflatable rings around her personage, which are able to inflate around her and enable her to bounce to high heights.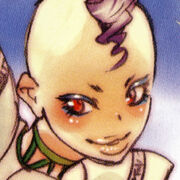 With the exception of a patch of hair in near the front, her head is completely shaved. She usually wears sunglasses though, like the rest of the Simon, she has red eyes. In each of her appearances, she seems to be wearing a different set of clothing. Her hair is dyed different colors with different choices of makeup in her appearances. Due to her choice of accessories, Shitt P! attracts much attention from onlookers.
Personality
Edit
Shitt P! shows a very confident, almost flirtatious personality. She is shown to be very intelligent as she not only finished her homework with ease but also states that she has been watching Hayato Gokudera very closely, and was able to guess his pride easily.
She is very proud of herself, and her pride is the fact that she knows who she is, and always acts for herself. An example of this pride is when she states that although she has a lot of people that she loves, which includes all of the Simon Famiglia with the exception of Julie Kato, she loves herself the most, and fights for herself, not others. Because of this, she disapproves Gokudera's loyalty, and reason for fighting, which is his loyalty towards the Vongola and its tenth-generation boss Tsunayoshi Sawada.
She prefers to be called "Shitopi-chan" and will only respond and speak properly if she is referred to as "Shitopi-chan." In any other case, she will either not respond or speak in an unrecognizable accent. Her favorite food is beans. She also seems to meditate, actually skipping the gathering between the Simon Family and Vongola Famiglia because she was meditating.
Weapons and Abilities
Edit
Equipment
Edit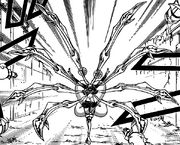 Swamp Simon Ring: Shitt P! possesses one of the seven Simon Rings. When the Ring is activated with the Vongola Sin, Shitt P! gains 8 claw-like weapons that extend from her back. The claws can be detached from her back and release Swamp Flames to ferment any inorganic substance.
Techniques
Edit
P. claims her talent is "hakko," which can mean either eight, radiation or fermentation in Japanese, which is later revealed to be fermentation, due to her Flame.
In the Reborn! Fandom, her number is 40.
When she first appeared, the small part of her hair was purple. On the second colored page, her hair was blonde. In the VOMIC, it is colored green.
Her pride is that she is always herself.
References
Edit
Community content is available under
CC-BY-SA
unless otherwise noted.