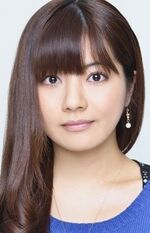 Satomi Akesaka (明坂 聡美, Akesaka Satomi?) (born January 2, 1988 in Saitama Prefecture, Japan) is a Japanese actress, voice actress and former singer affiliated with the Amuleto talent agency. She provides the voice of Chrome Dokuro in the anime adaptation of the Katekyo Hitman Reborn! series. Akesaka also voiced Chrome Dokuro in the subsequent video game adaptations and audio dramas.
Roles
[
]
Anime and video games
[
]
Music
[
]
Events
[
]
Katekyō Hitman Reborn! Vongola Saikyo no Carnival in Taiwan
Background
[
]
She is known for providing voices for Esdeath in Akame ga Kill!, Shirokane Rinko in BanG Dream!, Henriette Mystère in Tantei Opera Milky Holmes, and Taeko Nomura in Coppelion.
Gallery
[
]
External links
[
]