Character Outline
Ryohei Sasagawa (笹川 了平, Sasagawa Ryōhei) is Kyoko's older brother who is obsessed with boxing. His motto is to live "to the extreme!", which he applies to everything he does. As such, he prefers to fight his opponents head on, seeing any disadvantage as a chance to improve his fighting skills. He even barged into a zoo, expecting to fight a bear, but ended up fighting a lion instead. Every time he sees Tsuna and his friends doing something strange, he gets fired up and always wants to be a part of it. Due to Ryohei's enthusiasm, he often rushes into things without fully evaluating the situation, which often ends in his injury. He also has a short memory and forgets many important details, something his adult self solved by writing memos. Ryohei is always hiding the truth of what he is doing from Kyoko due to an incident that happened when they were still in primary school. Some high school students who did not like Ryohei used Kyoko to lure him into a trap. In his attempt to rescue her, he suffered severe injuries, which resulted in the scar on his left temple. Kyoko still feels responsible for this incident, though she accepts that he needs to fight. He is visibly concerned for Kyoko's safety, so he covers up his actual life-or-death battles with the cover story of "Sumo matches."
Plot Overview
Ryohei was first introduced when Tsunayoshi Sawada accidently pulled him to school while in Dying Will Mode. Ryohei was instantly inspired by Tsuna's spirit and urged him to join the boxing club. They later fought at the boxing club where they were both shot with the Dying Will Bullet. However it had no effect on Ryohei as he always lives his life to the limit.
Ryohei was targeted by the Kokuyo gang due to his status as Namimori Middle School's fifth strongest. He was badly injured by Ken and lost five teeth, resulting in him being hospitalized. He later lied to his sister Kyoko as to how he received his wounds. Later, during the fight with Mukuro Rokudo, Ryohei was one of the people Tsuna saw while under the effect of the Criticism Shot.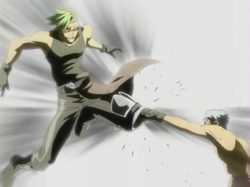 A month later Ryohei was chosen as the
Guardian
of the Sun and was given a half
Vongola Ring
. In order to prepare for the
Varia
's oncoming arrival,
Colonnello
became Ryohei's home tutor, and the two departed to a mountainous region. It is during this time that Ryohei trained by relaxing his body as opposed to exerting himself. Colonello also shot Ryohei with a special bullet that risked death but ultimately allowed him to unleash a mighty blow called
Maximum Cannon
. Later in the week Ryohei,
Yamamoto
and
Gokudera
, defended
Lambo
from Levi's Lightning Squad.
Before the battle Tsuna worried about Kyoko's reaction to her brother fighting, however after telling him about how he got his scar, Ryohei made him promise to keep it a secret from her. Later Ryohei became the first to fight, in the Sun Ring Battle against the Varia martial arts expert Lussuria. Ryohei who was immediately disadvantaged due to overhead floodlights in the Sun Arena, preventing him from seeing (Lussuria already had sun glasses), then had both fists broken after punching Lussuria's Metal Knee. However, once Kyoko arrived, Ryohei gained enough motivation to smash Lussuria's metal knee as well as his leg, ending his use of Muay Thai. Gola Mosca (after assuming his loss) then shot Lussuria leaving Ryohei the victor. During the Sky Ring Battle, After being cured by Gokudera Ryohei gave Lussuria the antidote despite being his opponent. He later saved Yamamoto, Chrome Dokuro and Gokudera from Mammon's illusion by destroying the entire gym with his Maximum Cannon. Later the Vongola Guradians forced the remaining Varia to surrender.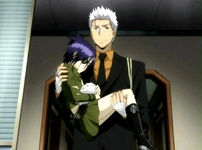 In the Future, Ryohei had gone to work with the Varia in Italy. When he returned, he found Chrome after her fight with
Glo Xinia
at Healthy Land and brought her to the Vongola Hideout. He also brought along information concerning the plan to attack the
Millefiore Family
's Base (as well as presents for the children).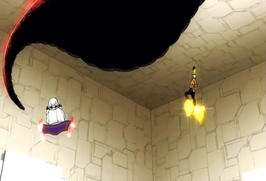 He later joined the others during the
Melone Base
invasion. The group were eventually discovered by Vice Captain
Ginger Bread
who claimed to be responsible for Colonello's death. Though greatly angered by this, Ryohei allowed
Lal Mirch
to fight. However he was revealed to be a puppet and the base was alerted. The group later found the Black Spell member
Nigella
as he was finished off by White Spell
Baishana
. Ryohei (angered at Baishana's disloyalty) crushed him with his own
Tsuchinoko
Box Weapon
. Soon after the Melone Base was activated, Ryohei and Gokudera were separated from the others and encountered
Gamma
. Ryohei, who had
tied
Gokudera up in order to prevent him rushing into the fight, was knocked unconcious during his battle with Gamma. However, thanks to
Kangaryu
's activation ability, Gokudera's
Box Weapon
grew up, giving him the upper hand in the coming fight. Later, Ryohei was switched to his Past self in order to unite the Vongola Rings, creating a momentary force field around those present. Then (along with the other Guardians) Ryohei received a Vongola Box Weapon from his future self and had the situation explained to him.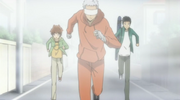 When returning to the past for the Arcobaleno Trials, Ryohei was chosen, along with Tsuna and Yamamoto, to take part in Mammon's Test of Adaptability. Under the belief that Kyoko was being held hostage, the trio were forced to solve a series of riddles as well as fight a number of Box Weapons. On the way Ryohei blindfolded himself, as he could find his way through the illusions based on his training route. After discovering that Kyoko was safe, they swiftly defeated Mammon and passed his trial. Later Ryohei and the other Guardians were assembled for
Reborn
's Trial of Leadership and were easily beaten by him. Shortly after, the Guardians joined forces with the other Arcobaleno, to defeat
Verde
and his army.
Upon returning to the future, Ryohei was taught by Gokudera how to use the Rings and Box Weapons. He was adamant about keeping Kyoko in the dark about the Mafia, but upon learning that her attendance to Choice was mandatory, he forgave Tsuna after a single punch. After the Vongola lost the Choice battle, Ryohei healed Shoichi who had been fatally wounded in the fight.
After being sent back to the past for the Inheritance Succession, Reborn became Ryohei's's tutor and they began training in order to release the pent up energy brought about by Ryohei's impatience.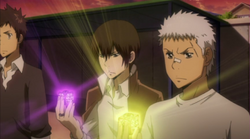 During
Kyoya Hibari
's trial, Ryohei was adamant about convincing him to participate and followed him to the school roof. However, they were interrupted by Hibari's trainer,
Skull
, in his airship who, frustrated by Hibari's lack of interest, began to attack. During the battle Ryohei helped Hibari protect the school resulting in Hibari taking his trial in order to repay Ryohei, however First Sun Guardian (
Knuckle
) appeared from the Sun ring and announced that Ryohei had already passed his test due to standing against adversity without fear and convincing Hibari to participate. The First Cloud Guardian (
Alaude
) also appeared, stating that Hibari had also fulfilled his duty. Later, due to their envolment with the Mafia, Kyoko and the girls were trapped by the First Generation Mist Guardian (
Daemon Spade
) at Healthy Land. Ryohei and
Lambo
were seperated from the others while attempting a rescue and were forced to fight doppelgangers of themselfs. The illusion was then torn apart by Hibari's rampage.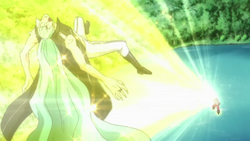 Ryohei was later hurt while trying to save
Yuni
from the
Six Funeral Wreaths
. Despite this he flew up with Reborn in order to backup Tsuna leading to the Funeral Wreath's retreat. That night Ryohei agreed to protect Lambo in the coming battle. The next day the two of them along with
Basil
,
Tazaru
, and
Nosaru
encounted
Kikyo
at the lake. Ryohei then undid the light hypnosis on Lambo causing him to destroy Kikyo's army of
Velociraptor di Nuvola
with his Vongola Box. After Kikyo opened his Hell Hole, Ryohei asked the others to sit back while he fought. By activating his
Cambio Forma
, Ryohei was able to take down Kikyo's defence but due to his previous injuries, he was unable to finish him off. He then appeared to be defeated by Kikyo but was revealed to be an illusion created by Mukuro. Later during an all out battle between the Vongola and the Six Funeral Wreaths,
Ghost
suddenly appeared and Ryohei tried to combine an attack with Gokudera and Basil. However
the attack
passed straight through him and Ryohei (along with everyone else present) had his
Dying Will Flames
drained. The Vongola eventually defeated
Byakuran
and returned to the past.
After returning to the past, Ryohei soon got into a fight with Koyo Aoba, one of the transfer students from Shimon Middle High School. He was later grouped with Koyo in order to protect Tsuna. When no assassins arrived, Reborn made them compete with a set of puzzles on a plate made of extra hard ceramic which were too difficult for either of them. Reborn stated that the competition would have to be postponed if the puzzles were to break. They were unable to break the plate themselves. Therefore, Koyo held the plate, while Ryohei broke it by using Maximum Cannon, which Koya was capable of receiving. Later Ryohei was the first to find Yamamoto after the attack and called the ambulance and started to heal him. However he noted that the wounds were to deep. During the Inheritance Ceremony, the Shimon betrayed the Vongola and Ryohei (along with the other Guardian's) was defeated by Enma Kozato and his Ring was broken. However Talbot then appeared and repaired the Vongola Rings by combining them with the Vongola Box Rings. With Ryohei's resolve, his ring turned into the Bangle of the Sun Version X.
Ryohei later joined Tsuna, Gokudera and Lambo as they invaded the Holy Land of the Shimon. While traveling they were attacked by Koyo to whom Ryohei demanded a one on one boxing match, in a ring of Koyo's barberd Forest Flame. However, so much as placing a knee on the ground would result in their loss. Using his flames to surround Ryohei, Koyo began to beat him to a bloody pulp. But, due to the abilities of Ryohei's new Vongola Gear, he was able to unleash a devastating blow that knocked off Koyo's glasses. However, Koyo's glasses were designed to blind him and without them, he could fight for real. Without anything hindering his vision, Koyo was able to spot Ryohei's Killer Points, delivering devastating blows to his left forearm, right shoulder, and left wrist. After cornering him, Koyo rushed Ryohei to give up to which Ryohei responded (after noticing Koyo's odd behavior), expressing his desire to enjoy all twelve rounds of the fight. Koyo then snapped and attempted a desperate raid against Ryohei when he momentarily lost his eyesight. Taking advantage of this situation, Ryohei connected a direct hit with his Sunshine Uppercut to Koyo's chest.
Relationships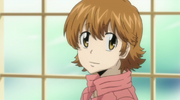 Ryohei is highly protective of his little sister who is often his prime motivation during his mafia fights. He was also determined to keep this side of his life a secret from Kyoko (usually by pretending the fights are sumo matches). Likewise Kyoko is also highly worried for her brother's safety and becomes frustrated whenever he fights. This was brought about due to the incident when they were children. Despite this she accepts his need to fight and supports him in his boxing.
Ryohei became impressed with Tsuna's strength in Dying Will Mode and as such tries to recruit him to his Boxing Club. Tsuna who is often scared of Ryohei's enthusiasm none the less treats him like a brother (calling him "Big Brother" like Kyoko). As a result of his feelings for Kyoko, Tsuna is often worried that Ryohei will get hurt in fights and tries to talk him out of them. After Tsuna revealed the truth about the Mafia to Kyoko, Ryohei struck him in rage. However Ryohei understood Tsuna's feelings and continues to respect him.
Colonnello became Ryohei's tutor during the Varia arc. Colonnello soon saw Ryohei's potential and claimed he would become stronger than the other Guardians. They both share extreme attitudes which helped strengthen their bond and after training with Colonnello, Ryohei has also become more reserved (though still maintains a level of enthusiasm). In the Future, Ryohei continued to look up to Colonnello and was greatly saddened by his death, though he remained mostly calm about it.
Ryohei respects Hibari's power and wants him to involve himself with the rest of the family. According to the Reborn! artbook Colore, Ryohei already tried to challenged him repeatedly but was always beaten up. Hibari's lone nature often clashes with Ryohei's persistent one, though in the Inheritance Succession Arc, Ryohei was the only one who managed to convince Hibari to take his trial. Hibari also respects Ryohei enough not to interrupt his fights. In the Future, little has changed as Ryohei is still frustrated with Hibari's lack of co-operation, though he sometimes invites Hibari to a drink, which is always refused.
As sporting fanatics, Ryohei and Yamamoto have great respect for one another (Yamamoto even referring to Ryohei as Senpai). Like with Yamamoto, Gokudera has an unnecessary rivalry with Ryohei and as he is easy to frustrate this often leads to pointless arguments where they are eventually separated by Yamamoto. The future Ryohei also admitted to Gokudera that they share a hot temper and need to learn to keep their cool. Despite this, Ryohei works well with both of them and all three support each other in their fights.
He developed a rivalry with Koyo soon after meeting. They actually have many similarities, such as their love of boxing and hatred of studying, though neither wants to be compared with the other. Both are short-tempered and easily get into a fight with their fist, which the only thing they agree on with each other. Despite this they seemed to respect each other when they broke the test plate, but refused to show it.
Abilities and Weapons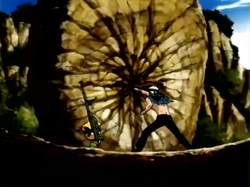 Ryohei is an excellent boxer who possesses great strength. His boxing training resulted in his proficiency in hand-to-hand combat, and ability to take and give a huge amount of physical punishment. Even the
Dying Will Bullet
, which increases a person's strength by removing the body's limiters, has no effect on him since he always lives "to the extreme". He has also perfected
Lussuria
's footwork allowing him to leave several after images to confuse opponents.
Trivia
Tsuna refers to Ryohei as "big brother" (onii-san) just like Kyoko. He is also nicknamed "Turf Top," by Gokudera and referred to as "Senpai" by Yamamoto.
Ryohei and Knuckle both have the same Seiyu.
His catchphrase is "Extreme" (kyoukugen).
In the Reborn Fandom, he is referred to as the number 33.
Ryohei is a horrible swimmer who sinks to the bottom and twitches. He is unaware of this and ironically works part-time as a lifeguard.
Kangaryu's wounds are revealed to be the result of constant sparring with the Future Ryohei. Despite this, the two seem to be highly friendly towards each other.
When Ryohei visits his house in the Future, it was shown that he was romantically involved with a woman in shadow. To whom, however, was not mentioned though it's suggested that it's Hana Kurokawa.
Character Songs Featured In:
Openings Featured in: