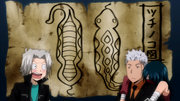 This is the policy for all uploaded images.
Re-uploads
When you upload a new image, do not overwrite any existing images. Always upload new images under a new filename. Uploading images over top of other images messes up the image's history.
The only case where you should make use of the re-upload feature is when you are uploading a better quality image of the same image (same media, same episode/chapter, same scene/page, same basic frame of the episode/manga) overtop of another.
Duplicate images will be deleted
Image origins
PLEASE DONT UPLOAD ANY SPOILER IMAGES. MOST PEOPLE HAVE THE PATIENCE TO WAIT FOR THE CHAPTER TO BE RELEASED, AND WOULD RATHER NOT YOU SPOIL IT FOR THEM. FAILURE TO LISTEN TO WARNINGS COULD RESULT IN A BLOCK.

Just because the image is in the manga chapter does not mean it's an official image. Many translation groups are now offering advertisement or credit pages with fan art, which is against our rules. Please note that if the image does not look like part of the manga chapter then it is most likely not part of an official release of any KHR media, exceptions would be colored spreads or KHR advertisements.
We only allow official images to be uploaded. Images directly from the anime and manga should be only used, and of course game images for games. However, please do not upload a game image for use on a page about something that is also in the anime or manga.
Fan-drawn images, fan colorings, and other images that have been edited (other than for simple resizing or cropping), will all be deleted unconditionally.
Image quality
Please don't upload crappy quality pics. For example: Blurry, extremely low resolution, or images with subtitles and watermarks. It just makes the page look bad.
Please don't upload .gif images, not even in you convert a .gif into another file format before uploading. The .gif format does not handle quality properly. It has a limited color depth, and as a result the moment you save an image with the .gif format it loses a large amount of quality. We also prefer .png images over .jpg images because .jpg images slowly lose quality each time you save them. Neither of these types of quality loss can be recovered without the original image.
Rename the file before you upload it. Sometimes some pictures saved are named out of completely random letters and numbers. Change them before you upload them. If you don't, the file will be moved, if not deleted.
Preferences
Note that anime images will always be preferred over manga pictures. They're more colorful, so it makes the page look better. Any anime episode that depicts something in the manga that is on an article should be replaced with an identical but anime image.
Notes
For infobox images, the primary image will always be an image depicting the first appearance of the character e.g. for Superbia Squalo we prefer a image of him in the Present Arc rather than the Future Arc as the first pic, and his future pic as our secondary HOWEVER: for a character such as Byakuran, a picture of him in the Future Arc is used as the primary image, and an image of his current appearance as the secondary.
Community content is available under
CC-BY-SA
unless otherwise noted.