The featured articles for 2011.
December 2011
Edit
November 2011
Edit
Featured Article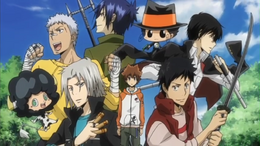 Vongola Decimo & Guardians is the team of people that are slated to inherit control over the Vongola Famiglia. It consists of the Sky Boss Tsuna, the Storm Guardian Gokudera, the Rain Guardian Yamamoto, the Sun Guardian Ryohei, the Lightning Guardian Lambo, the Cloud Guardian Hibari, and the Mist Guardians Mukuro/Chrome.
---
September 2011 to October 2011
Edit
Featured Article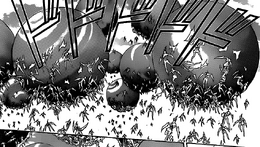 Gravita della Terra is one of Enma's Earth Flame abilities. Enma utilizes the power of Gravity that he gains with the Earth Flame to create spheres of Gravity with gravity that is equivalent to that of a star.
---
July 2011 to August 2011
Edit
June 2011
Edit
Featured Article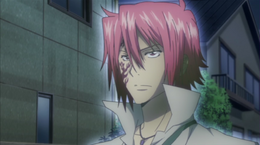 G was the 1st Generation Guardian of the Vongola Storm Ring. He was Giotto's best friend as well as his right hand man, and played a major part in the formation of the Vongola Famiglia. G. preferred to use Guns in combat, but when he goes on official Vongola business, he used a bow and arrow that he received from Giotto as a gift, and was said to never have lost when he used this.
---
April 2011 to May 2011
Edit
Featured Article
The Ring of the Sky Version X is the upgraded version of the Vongola Sky Ring. After the Vongola Rings were destroyed by the Simon Family, an old Vongola Mechanic, by the name of Talbot upgraded all the rings using the Penalty and Animal Rings. The Ring of the Sky Version X, is the form that Tsuna's ring took the shape of, after Tsuna used his Dying Will Flame to prove his resolve. ---

February 2011 to March 2011
Edit
Featured Article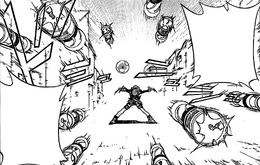 The Rocket Bomb Version X is a Vongola Gear enhanced version of Gokudera's original technique, Rocket Bombs. Rocket Bomb Version X, upgrades Gokudera's former technique, by making use of his Storm Flames. ---

January 2011
Edit
Featured Article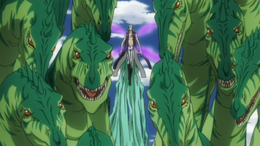 The Cloud Spinosaurus, a powerful Box Weapon that the Cloud Guardian of the Six Funeral Wreath, Kikyo uses, is a Cloud-attribute Box Weapon that merges the body of its user itself with the power of the Spinosaurus through a Carnage Box. The Spinosaurus that served as base was a carnivorous dinosaur with a sail made of skin on its back. ---

Community content is available under
CC-BY-SA
unless otherwise noted.