The featured articles for 2010.
December 2010
Edit
Featured Article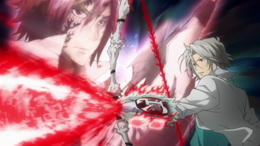 G's Archery (Gの弓矢, G no Archerii) is a bow and arrow-based weapon first used by the First Generation Vongola Guardian of the Storm Ring, G.. It was said that G., though highly proficient in a large range of firearms, always used a bow and arrow when doing work for the Vongola.

Through future Vongola technology, the 10th Generation Guardian, Gokudera, can transform his Box Animal into a model of this weapon. ---
Want to learn more?
Vote for the next Featured Article.

November 2010
Edit
October 2010
Edit
September 2010
Edit
Final episode commemoration
Edit
Featured Article
Tsuna and the group return from the past, having recieved their Inheritance from the First Generation Family. While waiting nervously for the inevitable battle to begin, Tsuna and the gang try to act as they always have. However, Byakuran and the Six Funeral Wreaths finally arrive in Namimori. Zakuro finds the base almost immediately. Squalo decides to hold off Zakuro to buy the group time to escape. As the group leave the base, they hear explosions from within the base. Squalo has been defeated. Having very little choice, the group make their way to a place Haru mentioned to hide. Kawahira shelters them, and even drives off the Wreaths, but the group knows that the battle has only just begun.---


Want to learn more?
Vote for the next Featured Article.
Vote for the next Featured Picture.
August 2010
Edit
Featured Article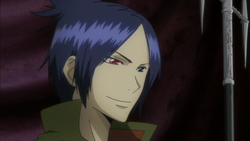 Mukuro Rokudo (六道 骸, Rokudo Mukuro) is one of the main characters of Reborn! and is the first season's primary villain. Although, he later became the Guardian of Mist.


Portrayed as the series' first primary antagonist, Mukuro Rokudo is introduced as a 15-year-old Mafia criminal wearing a Kokuyo school uniform with a so called "pineapple" hairstyle. He is the leader of the Kokuyo Gang, which consists of heinous criminals who have recently escaped from Prison. However, later on in the series, he takes on a more supportive role for the series' main characters, becoming somewhat of an ally rather than an enemy. Although, he prefers to not consider himself as one of their allies and tries to avoid any involvement with Mafia organization.---
Want to learn more?
Vote for the next Featured Article.
July 2010
Edit
Featured Article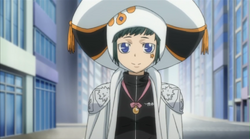 Yuni is the daughter of Aria and granddaughter of Luce. She is a young girl who is the Millefiore Famiglia's former Second-in-Command and the former Leader of the Giglio Nero Famiglia as a result of the early death of her mother, whom she did not know was a Mafia Boss. She inherited the Orange Arcobaleno Pacifier from her mother, and this Pacifier has been passed down in their Family for three generations. When Aria passed away, Yuni learns of the Mafia, and the leadership role she must play for the Giglio Nero Famiglia. Yuni was originally kind-hearted and caring towards others, and during that time, she came to know Reborn, whom she knows as her Uncle. The Giglio Nero Famiglia was losing strength and power. In order to keep the Family's power, she meets Byakuran, who schedules a meeting with her. After the meeting, Yuni emerges from Byakuran's office with a completely different attitude and personality (according to Shoichi, her heart was dulled with a powerful drug).---
June 2010
Edit
Featured Article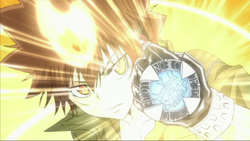 The X-Gloves are a pair of special combat Gloves made by Leon for use by Tsuna. The Gloves have two versions and allow for flight, increase in strength, and being able to output Flames for offensive Attacks. These Gloves first appeared in the Kokuyo Arc, when the fight between Tsuna and Mukuro began. ---
May 2010
Edit
Featured Article

The Gatto di Tempesta Ver. Vongola is the current Vongola Box Weapon of Hayato Gokudera. Gokudera named it Uri. Uri is a young leopard cub with a mischievous streak. Uri constantly scratch Gokudera's face every chance it gets. Uri has the Vongola Crest on its forehead and possess the ability to perform Cambio Forma. Uri's Cambio Forma is G-Archery. Check Uri out. ---
April 2010
Edit
Featured Article
Byakuran was the former Gesso and Millefiore Family Boss. He wants to use Tri-Ni-Set to create a new world. He is the former holder of the Sky Mare Ring. His power is to use his mind which can connect to the minds of other Byakurans living in separate parallel universes. Because of this, he can share his knowledge and experiences with parallel Byakurans. Check him out. --- ---
Want to learn more?
Vote for the next Featured Article.
March 2010
Edit
Featured Article

Colonnello is one of the seven Arcobaleno and the holder of the Rain Pacifier. He was once trained by Lal Mirch as well as a member of COMSUBIN. His animal partner is an eagle/falcon named Falco who aids him in flying and combat. Check him out. ---

February 2010
Edit
Featured Article

Fran is a member of the Vongola's elite assassination Squad, Varia. He replaced Mammon, the old Mist member. His master is Mukuro Rokudo. Check him out. ---

January 2010
Edit
Featured Article

Hibari is the leader of the Discipline Committee of Prefects at Namimori Middle School. Hibari is very loyal to Namimori Middle and would put his life on the line in order to protect it. Check him out, or he will "bite you to death." ---

Community content is available under
CC-BY-SA
unless otherwise noted.