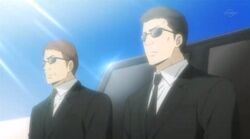 Different users of Reborn Wiki have access to different functions of the site. While anyone can do most things on the site, including reading and editing, administrators are users who have been granted with additional privileges on the administration and maintenance of the Wiki.
Below is a list of administrators based on generation, responsibility and right. Questions and requests to staff can be asked at the Community Portal. To nominate a user to the Staff, head to the Requests for adminship page. For other inquiries regarding admin functions, see the Administrators' how-to guide.
Rollback editors
Rollback editors are users who have been granted additional rights by bureaucrats. While they are equal to other users in terms of editorial responsibility, they are especially trusted to keep articles safe from vandalism and bad-faith edits. They have the ability called Rollback which grants the user the ability to:
move any number of articles without being halted by spam restrictions,
move files to new names,
suppress redirects when moving a page,
move over a redirect
delete and protect pages, and
mark edits as patrolled.
List of rollback editors
Currently, there are no rollback editors as most have been either promoted to administrator or stripped of their rights due to inactivity.
| Flame | Name | Status |
| --- | --- | --- |
| Forest Rollback Editor | Mpc797 | Removed due to inactivity |
| Earth Rollback Editor | Rainstorm-V2 (XIII-DARKNESS) | Promoted to administrator |
| Mist Rollback Editor | RaidoZero | Removed due to inactivity |
| Cloud Rollback Editor | IHeartFran | Removed due to inactivity |
| Sun Rollback Editor | D.ian | Promoted to administrator |
| Storm Rollback Editor | Generation X Storm Guardian | Promoted to administrator |
| Sky Rollback Editor | ChaosVoid | Promoted to administrator |
Administrators
Administrators are Reborn Wiki users who have sysop rights. While they do not own the Wiki and are equal to other users in terms of editorial responsibility, they are entrusted with several performance and security features to help ensure the smooth-running of the Wiki. Users may seek them out to perform maintenance, advice or information. They have all the abilities of a rollback editor, plus the ability to:
blocking IP addresses or user names from editing, and
editing the interface by changing system messages and skins.
Administrators should not use their administrator powers to settle editing disputes; for example, to lock a page on a version he or she prefers in an editing dispute that isn't vandalism. Administrator powers should be use to help keep the wiki clear of vandalism, spam, and users who make malicious edits, but not for simple disagreements between users acting in good faith. Ideally an admin shouldn't be considered "in charge." The ideal admin is just someone who is trusted to have a few extra buttons and to use them for the benefit of the Wikia community.
Bureaucrat
A bureaucrat is an administrator who are able to grant and remove Bureaucrat and Sysop rights to other users.
Staff
Some Wikia staff members have full access to all Wikia. They will be shown in Special:Listusers/staff on any wiki. Wikia janitors have limited administrator access to all Wikia for cleanup purposes. These users will be shown on Special:Listusers/janitor on any Wikia. Please see the Central Wikia contact page for details on how to contact Wikia staff.
List of administrators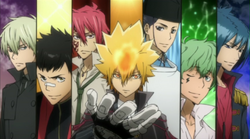 In keeping up with the theme of Reborn, our admins are each assigned a Dying Will Flame. At the Reborn Wiki, we are currently in the third generation of admins.
First Generation Admins
The First Generation Admins are the admins that started off the wiki and set up a foundation for others to build on. The Oath Admin is the former head admin and the overall leader of the First Generation Admins. Unfortunately, these admins are currently retired.
Second Generation Admins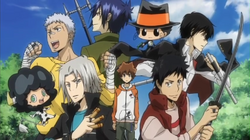 The Second Generation Admins are the highly active admins who can help you out at any given time. These admins helped take the wiki to where it is now, and are responsible for most of what you see before you.
Third Generation Admins
The Third Generation Sky Admins are the admins who were born with or are forced to accept Wikia's Oasis theme. Thus, they help this wiki's smooth transition towards the current theme. Currently there are three third generation admins.
Bots
Bots are not actual users, but they are user accounts that are operated by users. Bots are given the Bot flag, hiding the bot's edits from the RecentChanges by default. Bots are generally used to make rapid fixes to multiple changes, as well as maintenance. They can be operated either using the AutoWikiBrowser program, JavaScript, or pywikibot scripts.
List of bots
Currently, Mosca Bot is the only bot and MrAceAttorney is the only bot operator.
Community content is available under
CC-BY-SA
unless otherwise noted.