Mukuro Rokudo is a powerful illusionist and a wanted criminal, sought for his crimes against the Estraneo Famiglia. He is the primary antagonist during the events of the Kokuyo Arc. He is eventually chosen as the tenth generation Mist Guardian of the Vongola Famiglia. While in Vindice Prison, he communicates with the Kokuyo Junior High Gang and the outside world through his vessel, Chrome Dokuro, until he is released.
Appearance
[
]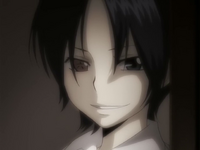 Mukuro is a fairly tall and slender teenager with blue pineapple-shaped hair. As an effect of the Six Paths of Reincarnation, he has heterochromatic eyes. His left eye is blue, and his right eye is red with the kanji for six (六, roku?) in the middle. He wears small earrings but is not shown in the anime adaptation.
His most prominent outfit is the standard Kokuyo school uniform, with the buttons of the green jacket undone. Underneath, he wears a short-sleeved shirt with a misty design. He wears black gloves on certain occasions.
Ten years in the future, Mukuro's longer hair is tied back into a thin ponytail. He wears a black jacket, white undershirt, black necktie, pants with two white belts, and black boots.
During the events of the Inheritance Ceremony Arc and The Curse of the Rainbow Arc, Mukuro wears his former t-shirt, a jacket similar to the one he wore during the Mist Ring Battle, a pair of pants and long black boots.
After being forced to possess the Gufo di Pioggia, the Box Weapon's right eye is similar to his, and a zig-zag pattern with pineapple-like spikes identical to his own are on top of its head.
Personality
[
]
In contrast to his playful smile, Mukuro is apathetic to the suffering of others. Appearing as the series' first antagonist, Mukuro is not averse to disposing of those who get in his way and is not easily intimidated, usually speaking to others in a very direct and arrogant manner. He cares little for others, and simply considers people to be "toys" or "tools" he can sacrifice in order to get what he wants.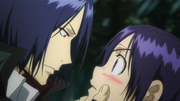 Despite his ruthlessness, Mukuro is capable of sympathizing with those who shared the same suffering as him.[2] This is shown in how he is considerate towards his subordinates, particularly both Ken Joshima and Chikusa Kakimoto, and possibly Chrome Dokuro. He protects them and even sacrifices himself for them when necessary. However, he does not directly do so in front of them and never admits it openly, hiding what he truly feels about them from everybody.
Mukuro, along with Ken and Chikusa, has a great hatred for the entire Mafia, most likely due in part to the experimentations they suffered as children. He desires to destroy the Mafia in its entirety. In addition, he also wants to invoke world suffering by starting a world war, claiming to want to cleanse the world with darkness because he sees the current world as worthless.
Even after becoming the Mist Guardian, Mukuro still claims to no longer be part of the Mafia, having been exiled from it. He continues to view the organization with great contempt, though he now prefers to avoid any involvement with them. Despite distancing himself from them, Mukuro is also quite knowledgeable of the Mafia's dark secrets, even the secret behind the Arcobaleno.
Mukuro is not without humorous side, however, he is particularly very sensitive when it comes about his hairstyle, especially whenever his or Chrome's hair is compared to a pineapple, prompting an immediate and comical punishment to the offender.
Powers and abilities
[
]
An illusionist's illusion countering another illusion, has already lost their own perception.

Mukuro Rokudo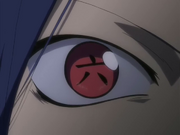 Known as someone who has driven both the Mafia and police into the most dangerous and desperate of situations, Mukuro is a formidable and deadly adversary. He is a master of illusions, having bested the Arcobaleno, Viper, in a battle of its use. He is not easily deceived by illusions that are cast by others, possessing a highly perceptive mind enough to dispel other illusions cast by illusionists. In addition to his mastery of illusions, Mukuro is also skilled in direct combat using his Trident, standing on equal terms against Kyoya Hibari, Byakuran, Tsuna, and Demon Spade.
Techniques
[
]
Equipment
[
]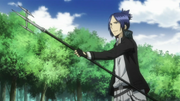 Trivia
[
]
References
[
]
↑ 1.0 1.1 1.2 1.3 1.4 Amano, Akira. Katekyō Hitman Reborn! Vongola 77. Tokyo: Shueisha. 2007. Print.
↑ Amano, Akira. Katekyō Hitman Reborn! Vongola 77. Tokyo: Shueisha. 2007. Print.
↑ Koyasu, Hideaki (writer) & Amano, Akira (illus). "mono.CHROME." Secret Bullet 2: X-Fiamma. Tokyo: Shueisha. 2008. Print.
↑ Amano, Akira. REBORN! ēlDLIVE character's 365. Tokyo: Shueisha. 2016. Print.
↑ Eric Stimson (2016-05-15). Japanese Readers Choose Sexiest Shonen Jump Villains (Article). AnimeNewsNetwork.
↑ 少年ジャンプ史上最もセクシーな悪役ランキング 1位から10位

(Japanese)

. Goo Ranking (May 11, 2016). Retrieved on October 23, 2020.
↑ 男の色気がすごい!ジャンプキャラランキング

(Japanese)

. Goo Ranking (May 25, 2019). Retrieved on October 23, 2020.
↑ ジャンプ史上最も「美しい」男キャラランキング

(Japanese)

. Goo Ranking (January 19, 2020). Retrieved on October 23, 2020.
External links
[
]