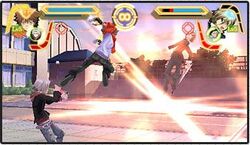 Katekyo Hitman Reborn! Kizuna no Tagbattle is a game of tag between two of the characters of your choice. It is powered by Marvelous Entertainment. It is also graphically constructed by Shade™. The player can choose 2 characters that can unleash a special attack after reaching level 5.



List of Characters
[
]
Trivia
[
]
G Codes are used to unlock the characters in the game.
Not all characters have special attacks upon reaching level 5.
Tsuna has special Attack after reaching level 5 in all of his Guardians except Future Mukuro.
Other Characters won't unlock if you don't finish story mode. You can also unlock characters using G Codes.
This is the first game to feature the Real Six Funeral Wreaths, as well as them being playable characters.
External links
[
]