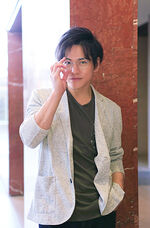 Hidekazu Ichinose (市瀬 秀和, Ichinose Hidekazu?) (born March 16, 1975 in Yamanashi Prefecture, Japan) is a Japanese actor, voice actor, and martial artist who provided the voice of Hayato Gokudera in the anime adaptation of Katekyo Hitman Reborn! series. He continued to provide Gokudera's voice in the subsequent video game releases, audio dramas, and character songs.
Ichinose has provided voices for minor characters such as Taiga Kamiya from Eyeshield 21, and Aotake from Kamisama Kiss. He also portrays Iruka Umino in Live Spectacle Naruto, showcasing his skills in Karate and sword-fighting.
Community content is available under
CC-BY-SA
unless otherwise noted.