This article contains detailed information from episode(s) and/or manga chapter(s).
It may contain SPOILERS.
Continue reading at your own risk.
Hayato Gokudera, commonly refered to as Gokudera, is one of the main characters in Katekyō Hitman Reborn!. Known for his loyalty to Tsunayoshi Sawada, he is a rebellious and hot-headed delinquent with a passion for the Mafia and the supernatural creatures.
He was chosen to be the Tenth Generation Storm Guardian of the Vongola Famiglia.
Character Outline
Appearance
Hayato is a half-Italian and half-Japanese teenage boy of the average height, a distinguishing feature of Hayato is his long silver hair, oftened being ridiculed by Ryohei Sasagawa for resembling that of an octopus, and his narrow green eyes. His traits in appearance are inherited by his late mother, Lavina.
The most recurring outfit of Hayato is his Namimori Junior High uniform. He wears a black blazer, white formal shirt, blue tie, and gray pants. His attire is almost always accompanied by different types of accessories, such as wristbands and rings.
Personality
Hayato is hot-tempered and tends to be irritable towards anyone who isn't Tsuna, Reborn, and Nana, with the biggest nuisance towards him are his own fellow guardians. He cultivates the image of a "bad boy" by smoking heavily, having a hostile attitude, dressing like a delinquent, and even attempting to harm others if not for the intrusions Tsuna and Takeshi, who restrain him. Despite his image as a school delinquent, Hayato is shown to be quite intelligent and finds many of the tests and schoolwork to be easy, unlike his boss. Hayato is rather superstitious and believes in U.M.A.s, this is evident due to his suspension towards Shitt P!, and his interest in the Ogopogo.
Hayato takes his duties towards acting as the right-hand man of Tsuna very seriously, to the point where he strongly dislikes whenever others interact with Tsuna in any way, especially towards Takeshi, who he considers a one-sided rival.
In contrast to the more impulsive Takeshi, Hayato has a very methodical and calculated approach to battles, it is commonly assumed that he had a multitude of private tutors when he was young, as he was brought up in a rich household.
Weapons and Abilities
Hayato is a powerful mid-range fighter, originally using dynamites to fight battles, being best skilled at enclosed spaces where he can place traps. He uses his dynamites to give himself a thrust when he is about to be hit by something he cannot dodge by his own speed. He also uses smaller dynamites with larger ones to create an optical illusion where the smaller dynamites being closer to the opponent to seem just as big as the other ones.
He is a also a very intelligent fighter, usually making complex plans in order to defeat stronger opponents. An example of his intelligence is first seen when he technically defeats Belphegor (who joined the Varia at the age of 8 and was considered a genius), and is seen later again when he figures out how to use his Flame Arrow after only two attempts. He even completes the Sistema C.A.I. that his future counterpart had been developing, and is the first guardian to learn how to ride his motorcycle with some proficiency.
Equipment
Cambio Forma: G's Archery - When activated, Uri combines with the Flame Arrow, creating a giant ornate bow made of bones with Storm Flames covering the drawstring and the Roman Numeral I on the front to symbolize the connection to the 1st Generation. In its Version X form the Cambio Forma has now become many straps of dynamite while forming armor on his legs and one arm, sunglasses, and a Piped-Shaped Igniter to ignite his dynamite.
Motorcycle/Airbike: Used to travel great distances without the use of Dying Will Flames, thus escaping detection.
Buckle of the Storm Version X: The upgrade of the Vongola ring combined with Uri.
Techniques
Double Bombs: Hayato's regular attack. First used against Tsuna.

Triple Bombs: Triple the Bombs. First used against Tsuna, perfected in the Storm Ring Battle against Belphegor.
Double Bomb with Mini Bombs: Double the Bombs with Mini Bombs added in. First used against Chikusa, Hayato threw small Bombs before normal Bombs to create an optical illusion that they were all the same size.
Pickpocket Bombs: Puts a single Bomb on target using his agile movements. First used against the Namimori High School Karate Club.
Speed Bomb: First used against Chikusa Kakimoto. He used a small Bomb, threw it up in the air, which created an explosion, and created momentum to propel him forward.
Bomb Spray: First used in the Storm Ring Battle. Hayato throws a Mini Bomb in close proximity to his opponent.
Bomb Blitz: First used against Kyoya. Hayato moves under the opponent, putting him into a wall of Dynamite.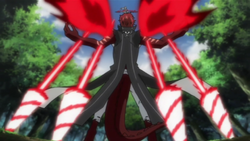 Trivia
Hayato often wears glasses and ties his hair in a ponytail when he's thinking.
In the manga, Hayato chain-smokes cigarettes; however, in the anime, he doesn't smoke, leaving the method to which he lights his Dynamite unknown, which Tsuna even comments on. During the Storm Battle, he was shown dropping a lighter, implying that he lights his dynamites with such speed that they are thought to light up on their own.
In the most recent poll, Hayato ranked 5th in popularity and 13th in strength.
Hayato resembles the First Vongola Storm Guardian, G.
He is shown to be slightly superstitious and knows at least one exorcism technique.
According to the Reborn! Vongola 77 data-book, Hayato's favorite magazine is "The Wonders and Mysteries of the World" and he is shown being a fan of the supernatural and extraterrestrial.
In a flashback, Shamal mentioned that Hayato "copied" his hairstyle.
He lives in an apartment and struggles to pay the rent. And despite his trauma, it's revealed that Hayato has a piano in his apartment, showing that he is yet to completely abandon piano.[2]
His pride is being a Guardian and serving Tsuna.
Hayato thinks anyone who is older than him is an enemy.
He and the Varia's Storm Guardian, Belphegor, share a few similarities such as that they're both considered geniuses,  are younger brothers with issues with their older siblings, and both left their homes at eight years old. However, Hayato's relationship with Bianchi somewhat improves over time, whereas Belphegor's relationship with Rasiel never improved.
Hayato is ambidextrous, inconsistently using which hand he writes within manga panels.
In REBO to DLIVE, it's revealed that he works part-time in a convenience store.
He started wearing silver accessories in an attempt to detect poison from Bianchi's cooking.[3] (In real life, due to its reactivity, silver has a reputation for detecting poisons; they tarnish on contact with arsenic sulfides. However, this is only applicable for sulfuric based poisons.)
Character Songs Featured In:
References
Community content is available under
CC-BY-SA
unless otherwise noted.