Synopsis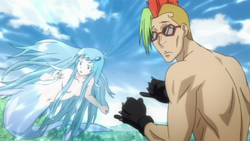 Ghost makes his slow walk into the battlefield. Ghost, a giant of a man, with both body and hair glowing with green Lightning Class flames, phantom like eyes, had made the battle that had been taken to a new intensity, just moments ago, stop, with both friend and foe staring at the new arrival.
Confusion reigned over the Vongola. This new arrival looked just like Byakuran, but Mukuro pointed out, that the markings on this new arrivals eye, was on the opposite side.

Shockingly, it wasn't just the Vongola that seemed put off by this giant. The
Wreaths
looked extremely nervous and uneasy,
Kikyo
, seemed speachless, as he nervously mentioned the new arrivals name,
Bluebell
, her voice shivering, said that this is bad, and
Zakuro
just wonders why on earth Byakuran had sent him so early.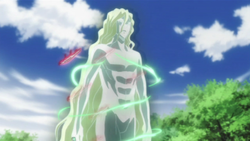 Mukuro, had taken note of Ghosts' allies reaction, Leviathan notices the ring on Ghost's finger. It was the Lightning Mare Ring.
Having confirmed that this new arrival was the enemy, Bel decides to take action, and throws his Storm Knives at Ghost. But to the shock of everybody, including Ghosts' allies, the attack simply phased through him. For a second, there was confusion of whether this was an illusion, but Mukuro and Flan, state otherwise. This was the real deal.

Since physical attacks didn't seem to work, Leviathan decided to try Flame attacks.
Levi, along with his
box animal
use their special move, Super Levi Volta, however, even this attack, simply phased through Ghost. Even Kikyo couldn't comprehend the situtaion, he looked just as baffled as the Vongola.
Basil
approaches
Gokudera
and
Ryohei
and suggests that maybe a multiple flame attack would work, and propeses to use their box combination attack. Ryohei states that, that technique was hard to control, but Gokudera points out the Ghost is just strolling along.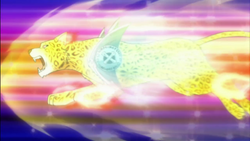 They decide to go for it, so all three of them release their box animals,
Uri
,
Kangaryuu
and
Alfin
. They begin their box combination attack. Alfin uses his
Brain Coating
to link the minds of the three of them. Uri charges forward, to be shot by Rain Class objects from Alfin, and Kangaryuu fires his
Sun Flames
to turn Uri into his mature form, the Storm Leopard.
This technique, dubbed
Solarstorm Fang
by Gokudera, Ryohei and Basil looked extremely dealdy. Mukuro, Bel and Zakuro all acknowledged the strength of this technique, while Kikyo, wonderes how Ghost will react to it.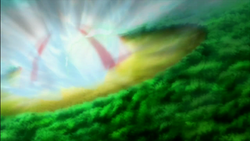 Uri heads straight for Ghost, who doesn't even slow down while this leopard charges him. Uri and Ghost collide, causing a massive explosion to occur, even the shockwave of this explosion seemed overwhelming. Ally and foe both looked anxiously to see the result of this collision. But something seemed wrong, the flames were faltering, and Kikyo, looking quite worried, wonders if its begun.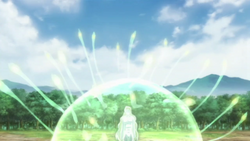 Ghost walks on, a shield around him, and completely unfazed by this powerful attack, a charred Uri is seen falling to the ground.
Gokudera cries out, and tries to go get Uri, but is stopped by Ryohei, who points out that something's happening. From Ghost's shield emergers countless light beams, heading towards everyone in the battlefield. These light beams first head towards
Ken
and
Chikusa
, who sensing the danger, immediately dodges. Next it heads towards
Lussuria
, who dodges immediately, but Bluebell, whose vision of the light beam was obscured by Lussuria, wasn't so lucky.
She was hit in the chest by one of these beams, in her moment of shock, she just wonders why Byakuran did this, right before her flames were completely absorbed, making her shrivel up, and then die.

The Vongola are shocked that Ghost took out his own ally, Leviathan's box animal, Livya, is hit by the beam, and soon it becomes petrified, and turns to dust.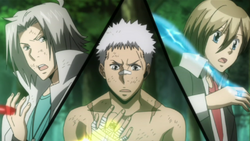 Xanxus, fires his
Flame of Wrath
at ghost using his
X-Guns
, but even the Flame of Wrath, known as the most destructive Flame of all the past
Vongola Bosses
, was absorbed by Ghost's shield. Next the Flames from everyone present seemed to drain away, as if leaking.
Kikyo dodges the light beams heading towards him, and thinks to himself that Ghost has begun to awaken. Zakuro, as his flames are being absorbed, thinks to himself that since Open Carnage Box turns their bodies into Box Animals, their very life energy was being sucked away, Zakuro dodges beams heading towards him, and proclaims that it doesn't matter which side anyone was on, they were all going to die.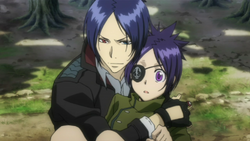 This is
Ghost's Awakening
.
A little away from this battle for survival, Chrome makes her way towards Mukuro, she sees these light beams between the trees, and wonders what they were. She had little time to think however, as a light beam shoots out through the tree's heading straight for her.

As the beam was about to make contact, she was pulled to the ground by none other than Mukuro. Chrome seems suprised by the person who saved her.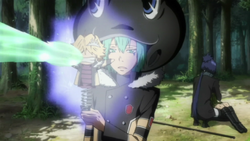 Mukuro tells her that this area was dangerous, and compliments her on being able to survive for so long. Chrome, still seems a bit suprised, but soon tears fill her eyes, as she say that she's glad. However she soon faints, leaving Mukuro in a slight bind.
From between the trees, yet another light beam approaches, this time targeting Mukuro. However, a Box Weapon is opened, and takes the blow instead. This Box Weapon turns out to be Flan's, and his box turns out to be a minature Bel.

Flan makes another one of his cheeky comments, as his Flame, as well as the box's flame drains away.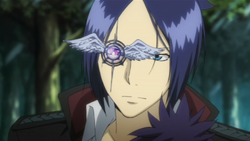 Flan ask's Mukuro to help him, Mukuro saying that they need to first figure out what they were fighting, takes the
Vongola Ring
from Chrome's finger, calls out to
Mukuro the Mist Owl
, and commands it to undergo
Cambio Forma
.
The Mist Owl turns into Daemon Spade's Devil Lens, and soon Mukuro starts to analyze Ghost with these powerful lenses. However, what he found out, was far from pleasing.

Mukuro finds out that Ghost was not even a living organism, but a supernatural phenomenon.
Ghost was not just a clever nickname, he was literally a ghost, a phantom. Mukuro realizes that they wouldn't even be able to touch him. Mukuro curses Byakuran, wondering what he had in mind.
At the Millefiore camp, Byakuran, with an evil glint in his eyes, prepares to move out.