This article was created and is owned by
Sayla Ryougetsuten
. Unless the edit is constructive and/or minor (such as fixing a template), please do not edit this page unless given permission from the author.
Extension:DynamicPageList (DPL), version 3.3.3: Warning: No results.
Stephanie Bovino (ボヴィーノ ステファニー. Bovu~īno Sutefanī) is the young heiress of Bovino Famiglia. She was the Cavaliere Nero Famiglia Star Guardian and Lampow's girlfriend.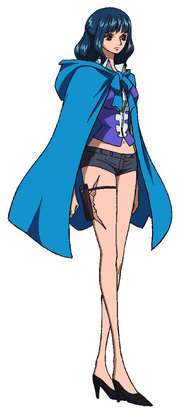 Stephanie is a slender, curvaceous young woman with reddish-brown eyes and dark blue hair framing her face,  Her outfit consists of a blue hooded cape, a sleeveless white collar purple top that exposes her belly button, grey mini shorts that exposes her long legs, black high heels, and a holster on her right leg. The scar on her left leg is caused by Demon Spade since she tortured her to find the whereabouts of Simon Famiglia and their family members.
Stephanie sometimes wear other clothes mostly a black suit and she carries gun whenever she goes and when the time require her to change as Cavaliere Nero, she mostly wear a mask so no one knows who is it acting.
Stephanie is kind-loving person infront of Lampo and act like a sister than a lover to him. She is also has gained G respect than Lampo. But, behind of the loving charade she put on, she is a more serious and adamant person since Freasha takes her to Cavaliere Nero. She sometimes don't shows expression on her face and act like a elegant lady. Her descendant, Lambo mostly got her feature with the personality of Lampow. She shows more support in Cavaliere Nero than the Bovino family, which forces her father to choose her little brother as the next boss.
Community content is available under
CC-BY-SA
unless otherwise noted.