This article was created and is owned by
Sayla Ryougetsuten
. Unless the edit is constructive and/or minor (such as fixing a template), please do not edit this page unless given permission from the author.
Extension:DynamicPageList (DPL), version 3.3.3: Warning: No results.
Rezliana Spitzberg (スピッツバーグ スバシオナレニ, Supittsubāgu Rezuriana) was first generation cosmic guardian of Cavaliere Nero Famiglia. She is also Ugetsu Asari's wife.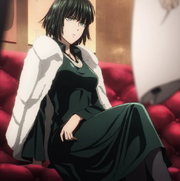 Rezliana is a young woman with a tall, slim, and curvaceous figure. She herself claims she is notably attractive. She has chin-length, dark green hair styled into a bob, and her eyes are light green. Her main attire consists of a long white fur coat, a dark green form-fitting dress, thigh-high black boots and several necklaces. Occasionally, she wears other outfits.
When Rezliana was younger, she was very self-conscious about her appearance, particularly her large breasts. Nowadays, Rezliana wears elegant, expensive clothing, as she believes in the saying, "clothes define the man", giving her a rather posh and confident image.
On the outside, Rezliana is a cold-hearted, confident individual who does not doubt her own abilities, but understands her limits to an extent, causing her to not do anything irrational. Rezliana's personality has overseen a massive change after meeting Asari, who encouraged her to finally overcome her fears and weaknesses, and find her determination to become stronger. She dedicates her days to be fully committed to seeing her family's continued improvement and well-being.
Community content is available under
CC-BY-SA
unless otherwise noted.