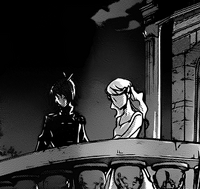 Elena was born into an upper-class, aristocratic family and her father was a duke, thus making her social status similar to Demon's. She was involved with Giotto and the Vongola even before Demon learned of the organization.
She first met Demon at an aristocrat party where they realized that they shared a feeling of resentment for other aristocrats who had no social standing for the public, and they both wished to change this due to the belief that regardless of position, highly capable people should be the backbone of society. Later on, they fell in love with each other and eventually became lovers. At one point, she got acquainted with Vongola Primo, Giotto, and soon she introduced him to Demon as she thought they would get along well. Demon, after meeting Giotto, joined the Vongola together with Elena.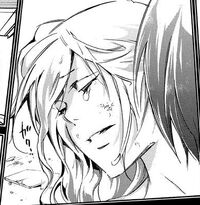 Demon gave the Vongola everything he had for the love he had, for both, the Vongola and Elena. Because of this, she said that she thought that the Vongola Famiglia, protectors of the weak and defenseless, was Demon Spade's pride. When the Vongola gained more and more power, Giotto, worried about fighting for self-interest, threw away his military forces. This action, however, created an opportunity for a rival Mafia Famiglia to invade their territory and critically wound Elena, who died shortly afterwards, but not before telling Demon to protect the weak with the Vongola because she believed Demon would be able to do it. After Elena died, Demon swore to make the Vongola strong in Elena's name, although he misunderstood her, assuming that she meant to eliminate the weak to make the Vongola strong.
To keep his promise, Demon threw away his own body and kept watch over the Vongola through the generations by continuously possessing others, always stamping out the weak in order to make the Vongola strong.
Community content is available under
CC-BY-SA
unless otherwise noted.