Doctor Shamal is an independent assassin and former tutor of Hayato Gokudera. He is known as Trident Shamal for his numerous disease-carrying Trident Mosquitoes.
Character Outline
[
]
Appearance
[
]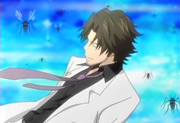 Shamal has dark brown hair and brown eyes with some stubble around his chin. He always wears a long white coat. His hairstyle is similar to Gokudera's, because Gokudera copied it.
Personality
[
]
Shamal is a crazed womanizer who hits on every cute female he sees, even underage girls. Though often unsuccessful, he is always seen hitting on one woman and then instantly moving on to flirt with the next woman that passes by him. In the manga, his actions are more indecent, shown when he groped the Cervello's breasts from behind.[3]
Putting aside his normal attitude, Shamal happens to be a notorious assassin called "Trident Shamal" and is also a renowned doctor who refuses to treat men, though he does make exceptions for male patients he feels sorry for, as shown when he agreed to treat Tsunayoshi Sawada, albeit reluctantly. Reborn claims Dr. Shamal had a hand in handling his (Reborn's) birth. Later in a flashback, Reborn states that Shamal "erased" Reborn's old self after he had accepted his new Arcobaleno body. Despite seeming flighty and lewd, Shamal can be serious and cunning when the situation calls for it.
He uses Trident Mosquitoes, to infect his targets with deadly illnesses. His assassination skill is so great that he was once asked to join the Varia, but turned down the offer.
Also, since he naturally contracts viruses and diseases easily, he carries 666 pills that contain Mosquitoes infected with deadly diseases. He claims to be infected with 666 diseases, but is not dead because all his diseases negate each other. An example would be if he had a disease that rapidly decreases body temperature, then he has another one that increases it.
Appearances in Other Media
[
]
Shamal appears along with Bianchi in the second chapter of the first volume of Katekyō Hitman Reborn! Secret Bullet. In the chapter, Shamal's relationship with Bianchi prior to her meeting Reborn was shown.
Powers and Abilities
[
]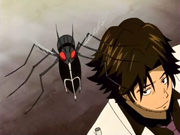 Because he has never been shown heavily engaged in battle before, the extent of Shamal's abilities is unknown. However, his skill is considerable as Reborn turned to him for help after receiving his curse and Bianchi has complimented his skill as a doctor.
Trident Mosquitoes: Dr. Shamal uses Trident Mosquitoes (one of which is named Angela) to inflict illnesses; he can use these illnesses to cancel out other illnesses or simply infect a person with a deadly illness.
Dynamite: Shamal is also shown to be skilled in dynamite as he was the one who taught Gokudera; he is only shown using them in a flashback where he uses paper planes as targets for young Gokudera's training.
Trivia
[
]
Shamal claims to only treat women; however, he has made a few exceptions out of sympathy or necessity.
While Shamal worked in the castle Gokudera lived in, he'd have a different girl with him every time. Once Gokudera asked him who the woman he was with was, he replied it was his sister. Leading Gokudera to belive Shamal had 62 sisters.[4]
References
[
]