Template:Sky character (ディーノ, Dīno?), Voiced by: Kenta Kamakari, Kenn (episode 34) The Cavallone Family (キャバッロネファミリー, Kyabarrone Famirī?) is the number three Family in its Mafia alliance with the Vongola Family. The family is one of the largest, with 5,000 members, and reportedly the third most powerful in the Vongola Alliance.
Character Outline
Dino is the 22-year-old 10th Boss of the Cavallone Mafia Famiglia, and was born on February 4 in Italy, with a blood type of O. Dino is a young man with great skills as a fighter and as a leader. His main Weapons are a bullwhip and his pet turtle, Enzo. Like Tsuna, Dino, at first did not want anything to do with the Mafia and was also a klutz. He became a suitable Mafia Boss after Reborn became his home tutor. He came to be known as "Bucking-Horse Dino" (跳ね馬ディーノ, Haneuma Dīno?) ("Bronco Dino" in Viz's translation) and fixed the Cavallone's financial problems, turning them into the third most influential Family. Unfortunately, Dino is so devoted to his Family, that when none of his Family Members are around, his skills decrease dramatically, often accidentally hitting people with his Whip and falling down the stairs.
Plot Overview
Varia Arc
Dino becomes Hibari's home tutor in order to train the latter for the Ring Battle. Thus, Dino travels with Hibari around the country in order to train him in various environments, with his right-hand man Romario, probably because he will mess up without his presence. However, he does have a little difficulty in training Hibari as all Hibari wants is to 'bite him to death'. He sees Hibari as being quite strong for his age, which is the reason why he is needed for Tsuna's family.
Future Arc
Training II
Dino first appears at the end of Episode 157 on the school's rooftop, and meets with Hibari. He then later appears the downtime before the game of
Choice
, right after
Basil
and
Yamamoto
managed to quell
Tsuna
's raging Vongola Box Weapon. Dino says that Tsuna released it improperly, and if he does it again, he'll break it for good.
Dino assigns everyone to new tutors for the time being. Ryohei and Lambo under Gokudera, and Chrome under Bianchi with I-Pin helping out. He tells Tsuna that he'll have to practice on his own, and Yamamoto the same because if he teaches him anything wrong, "that guy" will kill him.
Choice
Dino reappears during the selection of the teams, right when Hibari says that he doesn't care about the rules. He tells them that he snuck in right when they were being transported to the Lightning Field. Dino manages to convince him that he should wait to attack, because after the battle, he can fight anyone he so chooses.
After the battle as a result to Uni's sudden appearance, Dino suggests to Tsuna to reorganize themselves as he observes that Byakuran will make the battle last long. As Byakuran catches up to them, Dino volunteers to stay and buy some time for the whole Vongola family to escape. He also seems to have information as to Mukuro's whereabouts since he commented that Mukuro will be helping him soon just before the real Mukuro appeared.
Namimori
After Tsuna and his family returned to Namimori, Dino can be seen with Hibari running off to fight one of the Six Funeral Wreaths that landed at Namimori School. There they fight Daisy and defeat Daisy's Box Weapon, the Sun Rhino, with little difficulty. Daisy states that he was only going easy on them because he was happy that he found them, Daisy then reveals a box embedded in his body and activates it, changing his body into a weapon. Dino then releases his fully powered Sky Horse, with flaming wings that gives it an appearance of a Pegasus, which is then defeated by Daisy's left arm after the Sky Horse removed it. Dino then unleashes his ultimate technique, but to his surprise Daisy knows the technique, which Dino suspects from Byakuran's ability, and dodges it and incapacitates him, Hibari then comes to the rescue smashing Daisy through the school, and kicking Dino to Romario, stating that they need to stop going wild in the school. Dino then states how Hibari reminds him of the First Vongola Cloud Guardian and Hibari shows his Vongola Hedgehog's Cambio Forma.
Weapons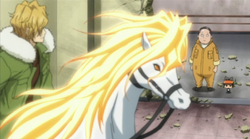 Bullwhip: Dino is very proficient with a whip when his subordinates are around. In the Future, Dino has been shown to infuse his whip with Sky Flames.
Salto Volante Veloce Come Luce (Light-speed Flying Jump, lit.' Jumping Flying Fast Like Light): Dino's ultimate technique,with his whip, he moves it a pattern at super speed, leaving almost no opening. When combined with his Sky Flames its gives the appearance of light moving from every direction.
Enzio: Dino's pet turtle. Enzio was given to Dino by Reborn after Dino asked Reborn if he could have Leon. Enzio grows substantially when exposed to water, he can grow to the size of a small house. Enzio is Leon's offspring.
Sky Turtle (Anime Only): A Box Weapon of rejuvenation. It has Sky Flame to stabilize health and Sun Flame to make the body active stored in its belly.
Cavallo Alato (Sky Horse, lit. Winged Horse): In the Future Arc, Dino is shown to have a Box Weapon that takes the form of a large bronco with a Dying Will Flame mane.
Pegaso Super Salto Volante (Pegasus Super Flying Jump): An upgrade to the Sky Horse Box that adds a pair of Sky Flame wings to the horse, making it resemble Pegasus. These Flame wings cut anything they come into contact with and harmonize them into ash with the Sky Dying Will Flames.
Win Loss Battle Record
Trivia
Dino has a large tattoo that covers his left hand and most of his arm.
Dino's movements will decrease greatly if his subordinates are not around- according to Reborn, 50 percent.
Dino was trained by Reborn before Reborn was sent to Japan to train Tsuna.
Future Dino is okay with his clumsiness as long as his subordinates are at least within 1 km.
According to Futa, Dino is the number one mafioso who cares for the well-being of civilians.
In a recent popularity poll, Dino ranked seventh, with 4,797 votes.
In the Future Arc, Dino has learned how to convince Hibari better than he did 10 years ago.
Even in the future, Dino is still startled by Reborn. This means Dino has not lost his habit from when Reborn was training him.
To tie in with Dino's nickname, Bucking Horse, and his horse Box Weapon, the name of the Cavallone Family means the "Big Horse" in Italian.
Opening Featured In: