We're Getting Mutants in the MCU - The Loop
Play Sound
Dino is the tenth generation boss of the Cavallone Famiglia which is the number three Famiglia in its Mafia alliance with the Vongola Famiglia. He is also Reborn's former pupil. His main weapons are a bullwhip and his pet turtle, Enzo.
Appearance
[
]
Dino is a handsome tall, young man with shaggy blonde hair and brown eyes, charming many girls and women at first sight. His left arm and side is covered in various tattoos.[4]
He usually wears an olive-green letterman jacket over a dark red shirt. He also wears a green winter jacket with a black fur collar over a white tank top. In the future, he is dressed in a coat with a white fur collar. His hairstyle also changes in the future and becomes wavier.
Personality
[
]
Dino has great leadership and combat skills. He is calm and mature at most situations, making him dependable in the eyes of many, especially Tsuna. In addition to his good looks, he's also quite a smooth-talker, earning him popularity among ladies. Like Tsuna, Dino, at first did not want anything to do with the Mafia and was also a klutz. He became a suitable Mafia Boss only after Reborn became his home tutor. Unfortunately, Dino is so devoted to his Famiglia that when none of his Famiglia Members are around, his skills decrease dramatically, and he will often accidentally hit people with his whip and fall down stairs, among other things.
Weapons and abilities
[
]
Equipment
[
]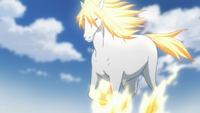 Bullwhip: Dino is very proficient with a whip when his subordinates are around. In the future, Dino has been shown to ignite his whip with Sky Flames.
Enzo: Dino's pet turtle. Enzo was given to Dino by Reborn after Dino asked Reborn if he could have Leon. Enzo grows substantially when exposed to water, he can grow to the size of a small house. Enzo is Leon's offspring.
Sky Turtle: A Box Weapon of rejuvenation. It has Sky Flame to stabilize health and Sun Flame to make the body active stored in its belly.
Cavallo Alato: In the Future Arc, Dino is shown to have a Box Weapon that takes the form of a large bronco with a Dying Will Flame mane.
Abilities
[
]
Salto Volante Veloce Come Luce: Dino's ultimate Technique with his bullwhip, he moves it a pattern at super speed, leaving almost no opening. When combined with his Sky Flames its gives the appearance of light moving from every direction.
Trivia
[
]
He refers to Tsuna as his little brother, and treats him as such. He is also one of the characters who refers to Nana Sawada as Mama.
Dino has a large tattoo that covers his left hand and most of his arm.

When he became a teacher at Namimori Middle in The Curse of the Rainbow Arc, he wore a bandage on his arm to cover up his tattoo.

Dino's movements will decrease greatly if his subordinates are not around- according to Reborn, 50 percent; however, Dino himself is unaware of this, blaming his clumsiness on his shoes or other things.
Future Dino can still bear with his clumsiness as long as his subordinates are at least within 1 km.
According to Futa, Dino is the number one mafioso out of 82,263 mafia bosses, who cares for the safety of his subordinates as well as civilians.
In a recent popularity poll, Dino ranked 8th.
Even in the future, Dino is still startled by Reborn. This means Dino has not lost his habit from when Reborn was training him.
To tie in with Dino's nickname, Bucking Horse, and his horse Box Weapon, the name of his family, "Cavallone", means the "Big Horse" in Italian.
In the Ciao Ciao interview, the catchphrase he gave that described himself really well was "Bucking horse that matters to his subordinates".
Laine Brick, a character from Akira Amano's ēlDLIVE manga, was based on Dino.
His temporary substitute stage actor, Daiki Miyoshi, is also the stage actor for Glo Xinia.
Character songs:
References
[
]