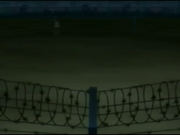 The Cloud Ground (クラウドグラウンド, Kuraudo Guraundo?) is the battlefield of the Cloud Ring Battle of the Vongola Ring Conflict.
The Cloud Ground is located in an oval field in Namimori Middle School. It is surrounded with barbed wire fences and gatling guns that would automatically shoot at anything within a 30m radius. Landmines are also scattered across the battlefield that would instantly explode when triggered. The battlefield is meant to represent the duty of a Cloud Guardian who could not be held down by anything and would never be caught.[1][2][3]
Community content is available under
CC-BY-SA
unless otherwise noted.