This article contains detailed information from episode(s) and/or manga chapter(s).
It may contain SPOILERS.
Continue reading at your own risk.
Character Outline
Chrome Dokuro is a 13-year-old girl wearing a Kokuyo school uniform and was first introduced as Tsuna's mystery Mist Guardian. She is a nice, innocent girl but can be very shy at times. She never opens up to anyone except Mukuro because she had a completely antisocial life before she met Mukuro. She gets confused when someone is kind to her since she had never imagined that her existence could be accepted by people. Chrome is almost never seen as angry or holding any grudges against people, even when she gets hurt. Because of her nature, some people can't be honest with her or think of her as pitiful. She tends to lean on Mukuro for help; however, in the Future, she becomes determined to get stronger to help the people who are dear to her. She seems to like skulls since her boots, belt, eyepatch, and even her wallet has a skull picture on it.
History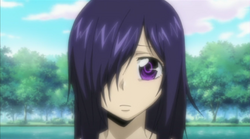 From what her parents talked about in a flashback, her original name was Nagi, and she lived an isolated life. After trying to rescue a cat, she was badly injured in a car accident, which led to the loss of her right eye and some of her internal organs. The only way to save her life would be to have someone with the same blood type transfer their organs to her. She did not care whether she lived or not, and her mother refused to sacrifice her own organs anyway. However, Mukuro Rokudo heard her words and allowed her to live by creating Illusionary organs. However, if hers or Mukuro's Trident breaks, her stomach will sink in due to not having genuine organs. Chrome has been shown using two of Mukuro's six Skills. She is also trying hard to learn Italian, since her goal is to someday be able to converse with Mukuro in Italian.
Plot Overview
Chrome was chosen to be the holder of the Half Vongola Mist Ring in Mukuro's place. She fought on level footing with Viper during the early stages of her match, but was overwhelmed once Viper got a bit serious. Viper, soon realizing that her trident was the key to her power, began targeting that, and, shortly after, was able to destroy it. This led to an unusual phenomenon where Chrome lost some of her organs, and seemingly the match.
However, soon a mist covered her body. Viper guessed that Chrome did what normal female illusionist do by using the last of her powers to cover her body. Viper couldn't be more wrong, because out of the mist came a sinister laugh, and, once the mist cleared, Mukuro had taken over.
Mukuro soon defeated Viper, winning the match, but having used too much of his power, his grip on his real illusion faded, returning the body back to Chrome.
Later, in the Sky Ring Battle, she was captured by Bel and Mammon and held hostage to convince Gokudera and Yamamoto to give up their Rings. Gokudera and Yamamoto attempted to save her but were caught in an Illusion; however, Ryohei came to the rescue and broke the Illusion.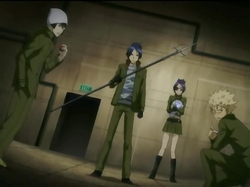 According to Kusakabe, five years before Tsuna and the others were transported to the Future, future Chrome, Ken, and Chikusa attempted to break Mukuro out from
Vendicare Prison
; however, they failed and separated, and their status was unknown. After being transferred into the Future with a frozen Vongola Ring, Chrome was confronted by
Glo Xinia
in the Kokuyo Gang's Hideout. With the help of Future Mukuro, she was able to thaw out her Ring and defeat Glo Xinia. Ryohei later brought Chrome to the Vongola Base. As she lay in bed sick, her Illusionary internal organs begin to fail and disappear due to Mukuro's defeat. However, she was able to use the Vongola Mist Ring to sustain her organs via her own Illusions. During the Invasion of the Melone Base, she appeared using Illusions to disguise herself with
Hibari
and
Kusakabe
. Along with the other Vongola Guardians, Chrome was given a Vongola Box Weapon.
Upon returning to the Future, the other members of the Family were at first worried that Chrome wasn't eating. However, once she established a friendship with I-Pin, she began joining them for dinner. She later began training to master her Illusions with the virtual training challenge created by Mammon and her combat abilities with Bianchi and I-Pin . Chrome was not one of the participants in Choice and therefore watched the battle from the Vongola viewing area.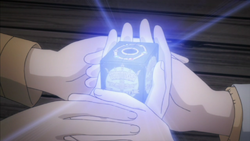 After being sent back to the past for the Inheritance Succession Viper was chosen to be Chrome's tutor. Chrome later went missing for several days only to return to Kokuyo Land, greatly upset and crying. Upon being questioned by the
Yuni
,
Kyoko
,
Haru
and I-Pin, she stated that she no longer wished to fight, leading the other Guardians to think she would be better of staying in the past. It was later revealed that
Daemon Spade
(the first and second Mist Guardian) had taken control of Chrome in order to draw the girls out and hold them as hostages. The group was then trapped in an illusion with limited oxygen, and while the other Guardians attempted a rescue Chrome attempted to break the illusion which, with Viper acting as a guide she was able to accomplish. Later Spade gave Chrome her inheritance after expressing an interest in Mukuro, who had appeared briefly to save Chrome.
After returning to the past, the Six Funeral Wreaths tried to capture Yuni. Chrome used her Vongola Mist Owl Cambio Forma to see through the enhanced illusions created by Torikabuto, aiding Tsuna in his fight. During the day of the final battle, Chrome delivered the Vongola Mist Box to Mukuro but fainted shortly after seeing him for the first time. After Byakuran was defeated, M.M. warned Chrome that Mukuro was only using her to escape from prison.
Back in the past Chrome was stalked by Julie Katou (a transfer from Shimon), who also started delivering food to her. He later asked her to go on a date and run away with him. However, she rejected him and just left him standing there. Later, after Yamamoto was attacked, Chrome created an illusion of him for Tsuna's Inheritance Ceremony so that the other Mafia members would remain unaware of his absence. Later, she, along with the other guardians (excluding Lambo), was defeated by Enma. When the Shimon Family took their leave after Enma defeated Tsuna, she was taken along by Julie, dropping her Vongola Ring on the ground in the process.
Relationships
Chrome is really loyal to Mukuro and admires him because he gave her a chance to live. She really cares for him and opens up to him everytime they communicate. Mukuro is also kind to her, but it is still unknown if it is an honest behavior or just an act. At the battle with Glo Xinia, he shudders when Glo Xinia commented of how precious Chrome is to him and also, after that event, he told Tsuna to not drag her out of his reach and even requested him to protect her. However, at the end of the Future Arc, M.M. tells her that Mukuro is just using her to get out of the Vendicare Prison, which Ken and Chikusa reiterate. She tells her to stay away from Mukuro and says that he is a fearsome person. Future Mukuro also referred to her as an "ignorant little girl" since Chrome takes Mukuro's words and actions at face value. Chrome seems aware of M.M.'s warning and Mukuro's personality towards other people, but decides to keep quiet and continues to be loyal to him; this may mean that she doesn't mind even if Mukuro is just using her.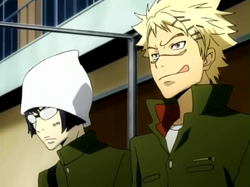 Chrome sees them as important people she wants to protect. Even though Ken always mocks and berates her, she doesn't seem to mind it. And unlike Mukuro, where it's still unknown how he feels for her, Ken and Chikusa, actually, really care for her well-being but refuse to show it, especially Ken. Evidence of this can be seen when they saved her during the Cloud Ring Battle from a bomb explosion and the Sky Match where Ken constantly complained that they couldn't see Chrome's condition. In the Arcobaleno Trial Arc (anime only), Ken gave her many sweets and when asked by Chikusa, he said he only bought it because they haven't used any money since her disappearance. Chikusa, aware of Ken's real intention, accepts this story, much to Ken's anger.
M.M. is seen to have a huge dislike towards Chrome and this could be because of her possible feelings towards Mukuro. She seems somewhat jealous of her and has been seen slapping her and calling her names on some occasions. But after the final battle with Byakuran, she told Chrome to stay away from Mukuro since he was a fearsome person, and she was concerned about it. This may mean she has some level of concern for Chrome. Chrome doesn't seem to show anger towards her, nor does she seem to hate her.
Regardless of her connection with Mukuro, he sees Chrome as an important friend and always treats her nicely, just like he does to the other family members. During the Arcobaleno Trials Arc, he even brought her some onigiri since he knew she didn't eat much at the base, which Chrome accepted. Chrome also sees Tsuna as her boss and likes him since he is the only one who believed and accepted her as his guardian at the Mist Ring Battle and granted him a kiss, much to his embarassment (and Gokudera's anger).
At first, Chrome is extremely shy towards all Members of the Vongola Family except Mukuro and would run away from any sign of kindness or courtesy, like when she is offered dinner or asked to eat with them, but after I-Pin offers her a bun to eat, Chrome starts warming up to the generosity of others. She then begins to help Kyoko and Haru prepare dishes for the family. She now eats dinner with them regularly. I-Pin is often encouraging her gently to be more sociable and accept other people's kindness. Now when she is usually seen, she is with either I-Pin, Kyoko, or Haru.
Appearance in other Media
She appear in the second volume of the Reborn! novel Hidden Bullet: 2X-Fiamma, which explained how she first met Ken and Chikusa: Chrome, who was still known as Nagi at that time, met Ken and Chikusa at Namimori Park. Ken, who was constantly yelling that he was starving, became exhausted and almost fainted to the ground in front of the confused Chrome, who was seeing this. Chrome then fed him an apple, which he happily ate. She also appeared in the fourth volume of the Hidden Bullet novel.
Abilities and Weapons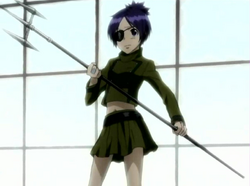 As Mukuro shares Chrome's body, she is granted the powers of "Six Paths of Reincarnation" though so far she is only proficient in Illusions and summoning animals. However; her own illusions had improved as the story progressed even without Mukuro's help as stated by Mammon that only an expert that can see through her illusion of that level. Chrome also is quite skilled in hand-to-hand combat and uses Mukuro's Trident. The Trident can fit into a small bag by retracting the poles of the Trident and the handle.
Vongola Mist Ring - Won during the Mist Ring Battle. As part of the Tri-ni-set it is classed as S-rank. Chrome shares the Ring with Mukuro and usually wears it when he is in jail. Ten years in the Future, the Vongola Rings were destroyed by Tsuna, however they were later brought back from the past with the Ten Year Bazooka. Chrome is capable of bringing out Mist Dying Will Flames from her Ring and use it's Construction ability to create Real Illusions.

The Vongola Guardians were later accepted by the First Vongola Boss as the rightful owners of the Vongola Rings and were granted their true forms.
Gufo della Nebbia lit. Mist Owl - Chrome acquires it in her battle with Glo Xinia as it is inhabited by Mukuro, which changed it from a Rain Box Weapon to a Mist Box Weapon.
Vongola Mist Owl - This is Chrome's Vongola Box Weapon. It appears to look much like her Mist Owl but with armour padding on it's wings. In Cambio Forma, the Owl turns into Daemon Spade's Devil Lens. These Lens enable Chrome to see through any Illusion.
Trivia
Chrome means "metallic" in English and Dokuro means "skull" in Japanese, though another meaning is "poison mist."
The Japanese rōmaji of her name, Kurōmu Dokuro, is an anagram of Mukuro Rokudō.
Nagi means "calm" in Japanese.
During her fight with Glo Xinia, she remarks that blushing is something she inherited.
In a recent popularity poll, she ranked 10th. In two previous polls, Chrome ranked 13th and ranked 1st in the female popularity poll. This makes her currently the most popular female character.
She has same "pineapple" hairstyle as Mukuro. Ironically, according to the fanbook, she dislikes pineapple.
Like Mukuro, her favorite snack is chocolate.
In the 2008 survey "The Character I Want To Be My Bride," Chrome ranked 10th. In the 2009 survey, she ranked 7th.
In the 2009 "Top Anime Characters by Categories" Polls, Chrome ranked 1st in the category "Top 5 Most Courageous".
In the Animegrandpix 2008, Chrome ranked 13th in the female characters category.
In the "Most Wanted Future Version" Polls, Chrome ranked 5th with 5,603 votes, although her future form has not been shown yet.
In the "Dream Match-Up" Polls, Reborn stated that Mukuro is stronger in both Combat and Illusions than Chrome; however, Reborn also states that Chrome does her best in training. When the time comes and when she has found her own fighting style, she might be able to turn the tide.
In the Haru Haru's Interview, it is shown that Chrome visits public baths, since there aren't any shower rooms in Kokuyo Land. As she has sensitive skin she also carries lotion with her.
Character Songs Featured In:
Openings Featured in:
Template:Vongola Famiglia & Allies