This article contains detailed information from episode(s) and/or manga chapter(s).
It may contain SPOILERS.
Continue reading at your own risk.
Character Outline
Chikusa Kakimoto is quiet and loyal subor-dinate of Mukuro since childhood along with Ken. He was born into Estraneo Famiglia along with Ken and Mukuro and one of the children who were experimented when the Family invented Possession Bullet and horribly persecuted by other mafia families until Mukuro saved him and Chikusa by annihilating its entire members and since then, he become Mukuro's subordinate. He is referred to as Kakipi by
Ken
and
M.M.
and seems to have a thing with showers. He wears a green Kokuyo Middle uniform, glasses, and a white beanie with a barcode on his left cheek and a bandage on his right. But, that belies his real talent as a professional assassin, using his deadly "Hedgehog" yo-yo's to spray his opponents with poisoned needles. He is also able to expertly control where he throws his Weapons to accurately shower his opponent with them.
Personality
Unlike Ken, Chikusa rarely speaks and is mostly quiet. He talks only if necessary; though, he is often shown to argue with Ken. Like Ken, he also cares for Chrome, but never shows this openly and sometimes "teases" Ken, who always denies his feelings of concern for Chrome. He has been Mukuro's subordinate since childhood along with Ken and is extremely loyal to him. He will follow any of Mukuro's orders and is willing to sacrifice his life for him.
Plot Overview
List Countdown
Chikusa first appears with Ken observing his battle with someone on the list. He later corners Gokudera in a Namimori Shopping District. He then engages in battle with the Vongola, but underestimates the third-ranked on the list, resulting in him taking on serious damage. He proves to have a very resilient body as he is able to take them and incapacitate Gokudera when he tries to save Tsuna. After he attempts to attack Gokudera's savior, Yamamoto, one of his Hedgehog Yo-Yos are sliced; when he loses it, he decides to retreat and take a shower.
Kokuyo Land Invasion
For the first half of the Invasion, Chikusa is unseen, as he is recuperating from his battle earlier with Gokudera. However, he comes back in the latter half of the Arc to battle Gokudera on Mukuro's orders after the group (without Yamamoto) proceeds into the main building. He battles Gokudera until his side-effects kick-in; along the way, proving again, he can take large hits by being hit dead-on with dynamite explosions and only wobbling. At this point, Ken breaks through the glass, Gokudera is resting on, and deals a heavy blow to him. This allowed him and Chikusa ample time to finish him off. The two look on as Gokudera rests helpless at the base of a flight of steps. But, they allow him time to release Hibari who defeats them both off-screen.
Mukuro Face-off
After Mukuro Possession shot is revealed, Chikusa and Ken come back to aid Gokudera and Bianchi, as the four are being controlled by him. However, after Tsuna recieves his X-Gloves from Leon, he handily defeats them both with little fanfare. Ending Chikusa's involvement in the Arc, and his last appearance as he was dragged off by the Vendice along with Ken and Mukuro.
Chikusa made a brief appearance during the Ring Battles when he, along with Ken, accompanied Chrome to her battle to defend the Vongola Mist Ring. In the Cloud Ring Battle, he and Ken saved Chrome from a bomb explosion and was saved by Tsuna from the Gola Mosca's attack. He also watched the Sky Match and stopped Ken when he tried to save Chrome.
Chikusa made another brief appearance during this Arc, though it was only a cameo in a flashback. However, multiple "Real Illusions" of Chikusa were wielded by Chrome along with Ken and Mukuro to battle Glo Xinia. He has recently appeared alongside Ken and M.M. after Fran freed Mukuro from Vendice. They are in the process of escorting Mukuro to Japan to help protect Yuni from Byakuran.
He first appeared when he told Kyoko, Haru, and Bianchi that Chrome disappeared ever since Tsuna and the others comes back from the future. Later when Chrome returns, he notices that Chrome was tearing, He pointed this out to Ken, who tries to make her feel better by offering her snacks, to which she refuses, before breaking down and crying. He and Ken tries to figure out what's wrong with her. The next day, he and Ken met Tsuna and his friends outside of Kokuyo Land and informed them about Chrome's return and about her strange behaviour. When they returned, they were shocked to see that the whole Kokuyo building had disappeared.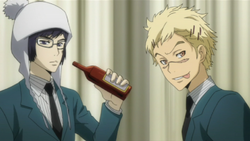 Later, he and Ken fought against Zakuro after they helped Mukuro escape from Vendicare. When Tsuna defeated Ghost, he and everyone else were watching the battle. After Byakuran was defeated, he was seen with Mukuro and Ken, calling out to Chrome, that it's almost time to go back to past.
He was seen for the first time when he, Chrome, and Ken received a package which contained food from an unknown sender. He wonders who keeps sending the food if it's not Tsuna.
Relationships
Chikusa is constantly bickering with Ken due to Ken's mockery towards him. Ken calls him "four-eyed kappa"; sometimes Chikusa is patient and just ignores this, and sometimes they begin to argue. Whenever Ken tries to act reckless or stupid, Chikusa always stops him and apologizes on his behalf for his idiocy (on the Ken Bam-Bam channel, Chikusa apologized to Mukuro for his Ken's stupidity when Ken makes him his guest). He also likes to tease Ken of his dishonesty for Chrome's well-being, which Ken hotly denies. Despite this, however, both could be considered as good partners and childhood friends. Both will work together when the situation demands it, especially whenever Mukuro or Chrome is involved. In an anime flashback of his time in the Estraneo Family when Ken and Chikusa intend to check the room where Mukuro killed his captors, Chikusa hid behind Ken out of fear. This may hint that Chikusa used to rely on Ken when they were children.
Like Ken, Chikusa displays great loyalty for Mukuro and is ready to sacrifice himself for him. Mukuro had saved him and gave him a place to go just like when he desperately tried to help him when he was defeated by Tsuna despite his grave injuries. He doesn't mind even if Mukuro is just using him and obediently carries out his orders. He also always reports to him if Ken starts to pull some pranks and helps Mukuro to punish him, much to Ken's anger and dismay. (In a Haru Haru interview, he helped Mukuro cut Ken's hair into a pineapple hairstyle.) Mukuro acts indifferently towards Chikusa, though due to Chikusa's calm nature, Mukuro seems less talk to him than Ken. Despite claiming he and Chikusa are just tools, Mukuro actually tolerates them and even sacrificed himself for them to be imprisoned in Vendice Prison. In a special light novel in Vongola 77, Mukuro even admitted that they are his friends.
Similar to Ken, he has some concern for Chrome's well-being but never shows it openly. Whenever Ken starts to shout at her, Chikusa always stops or restrains him before he can go any further. He is also fast to realize if something is wrong with her, like when Chrome returned upset after being taken by Daemon in Inheritance Succession Arc. He also pretended to not understand who Ken meant when Ken asked about her whereabouts by referring to her as "stupid" or "ugly girl", and only responded when Ken finally used her name. Chrome regards him as her first comrade along with Ken and holds him dearly.
Appeareance in other media
He appears in the first volume of Hidden Bullet: Mukuro's Illusion as a minor character when Mukuro took over Kokuyo Land, and at the second volume of Hidden Bullet: 2X-Fiamma, where he appears along with Ken when they first met Chrome in Japan. He and Ken go to Japan as ordered by Mukuro in their dreams to find "the other him." Due to lack of money, they can't buy enough food which makes Ken yelling that he is hungry, much to Chikusa's annoyance. At Namimori park, Ken becomes exhausted and almost faints to the ground in front of the confused Chrome (still Nagi at that time) who saw that. Chrome then gave him an apple which he happily ate and made him more quiet, which Chikusa then appreciated.
Weapons
Hedgehog Yo-Yo: Chikusa uses two Yo-Yo's, which he expertly manipulates to rain needles down on his unsuspecting opponents. In the future, his needles are also shown to be coated with rain flames.
Rain Ring: In the Future Arc, Chikusa is shown to posses a Rain Ring.
Trivia
Chikusa is known as "Kakipi" or "Four-eyed Kappa" to Ken. In a special, the latter also called him a 'meatbun', a referance to the hat Chikusa ia always seen wearing.
Chikusa can also mean "Chikuwa" in Japanese.
In the Reborn! Fandom, his number is 49 (variations including 193 and 493).
In both the Nintendo DS Games and Collectable Cards, he uses a Rain Dying Will Flame.
Chikusa loves showers and staying clean and often tells Ken to take one himself.
He has the same Seiyu as Shoichi Irie.
Openings Featured In: