This article contains detailed information from episode(s) and/or manga chapter(s).
It may contain SPOILERS.
Continue reading at your own risk.
Character Outline
Basil is a member of CEDEF and works under Tsuna's dad, Iemitsu. Basil is an extremely skilled fighter and is very loyal to Iemitsu and his son, Tsuna. Because of his loyalty, Iemitsu trusts him enough to send him off to extremely difficult missions. He is introduced in the early Varia Arc and turns into a reoccurring character, frequently showing up throughout the series. Basil has dirty blond hair and is of Italian descent. It seems that he learned Japanese from a very old source because he speaks with outdated terms, equivalents of "Thou," "Thee," and "Thy" in English. He carries around some type of Triangular blade which could be named a Katar of some sort; he uses to battle with. Basil is the first person in the series, other than Tsuna, to go into Hyper Dying Will Mode. Iemitsu, his master gave him the Dying Will Pills that Basil uses to go into Dying Will Mode and later were given to Tsuna as a gift after the Varia Arc, before going back to Italy with Lancia. His Blade and Tsuna's X-Gloves may have originated from the same material, seeing as Basil is able to utilize his Rain Flame to light it. He made a big difference when helping Tsuna train before Tsuna's fight with Xanxus. Toward the end it would seem that Basil and Tsuna created a strong bond between them.
Plot Overview
Basil is the first person seen in battle during this Varia Arc (along with Squalo) and he is seen with a picture of Tsuna's immediate family. He accidentally leads Squalo to Tsuna and his family while they are out, mistakenly believing Squalo to know who his target was. After being tossed aside by Squalo, he watches as Yamamoto, Gokudera, and Tsuna all take him on, only to have to step in to save Tsuna from being severely wounded. Basil tells Tsuna of the Half Vongola Rings he is carrying, and then he is forced to do battle with Squalo once more. He, in the end, is unable to fend Squalo off, and is knocked unconscious.
Throughout the first six Ring Battles, Basil helps Reborn to train Tsuna, even after he lost the Sky Vongola Ring in the Lightning Ring Battle. The training paid off when Tsuna was forced to take on Gola Mosca, and again when he had to fight Xanxus. When it is revealed that the Varia had planned to kill everyone at the Sky Ring Battle and take all of the Vongola Rings, Basil volunteers to help Tsuna's Family to fight, but he, Shamal, Dino, Ken, Chikusa, Colonnello, and Reborn are all trapped due to the Varia's cheating.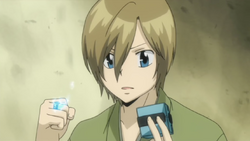 When Basil came to the future, he arrived in Spain, where he found a Box Weapon and the Helper's Book, which had recorded the Future fighting style. He then made his way to the Vongola Base in Japan while fighting the Millefiore on the way. Not long after Basil's arrival, Tsuna's Vongola Box went berserk, but with Yamamoto's help, Basil was able to calm it using the Rain's Tranquility. Dino later instructed him to continue with his training, while helping the others at the same time.
Later, after the Vongola lost Choice, Basil along with Ryohei and Gokudera was injured while trying to protect Yuni from the Six Funeral Wreaths. The next day, he was grouped with Lambo and the injured.
Ryohei, Tazaru and Nosaru in order to defend Yuni. They first encountered Kikyo, but soon it bacame a full-out war between the Vongola and the remaining Six Funeral Wreaths. During the fight, the final Funeral Wreath, Ghost, appeared. Basil, Ryohei, and Gokudera atempted to combine their attack power but it had no effect.
After Byakuran was defeated and everyone returned to the past, Future Basil was seen with the Vongola Guardians waiting for Future Tsuna.
Weapons and Abilities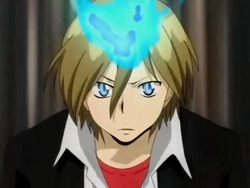 Forms
Dying Will Mode: This is when Basil has ingested a Dying Will Pill. It uses the pressure he faces during a crisis to externally remove his body limiters. He then uses his increased strength and renewed confidence to fulfill his dying will, which is the last thought he regretted before being shot. Unlike Tsuna Basil's clothes remain on when he enters Dying Will Mode.
Hyper Dying Will Mode: This is when has ingested two Dying Will Pills. Hyper Dying Will, instead of removing external limiters on the body and using pressure during a crisis, removes internal limiters; therefore, releasing the person's hidden awareness.
Equipment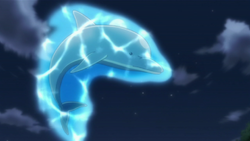 Delfino della Pioggia (Rain Dolphin): Basil's box weapon that he first uses him to attempt to calm down Tsuna's Vongola Box Weapon, but the Harmony characteristic of Tsuna's box overwhelmed Basil's Tranquility characteristic. His Box Weapon has the ability to synchronize with other Box Weapons Including the Vongola Box Weapons. This synchronization allows the animals to launch a special attack. He nicknamed it Alfin.
Triangular Blade: A blade that resembles and acts like a boomerang. It is seemingly made out of the same material as the X-Gloves because it can ignite the Dying Will Flame.
Helper's Book: A book containing valuable information, teaching how to properly use a box weapon in a fight and sealed by Sky Dying Will Flames. But it is top-secret and, if necessary, it must be burned to remain secret.
Motorcycle/Airbike: Although Basil wasn't one of the contestants in Choice Game, he was also given one and practiced with the others.
Trivia
Basil is the only character besides Tsuna and Enma who has been shown fighting in Hyper Dying Will Mode.
Like the rest of the CEDEF members, he was named after a plant; Basil was named after the "Basilicum."
He has a habit calling other people with "-dono" in the end (i.e. "Sawada-dono"), as well as speaking using Shakespearian terms due to what Iemitsu taught him as a child, but he happens to call Reborn, "Reborn-san."
He was the only one who didn't go back to the past for the Inheritance Succession, even though Reborn said everyone that went to the Future needed to go to the Past.
In Reborn! Fandom, Basil/Basilicum is referred as 84.
Character Songs Featured In: