Hello! Thanks to everyone's support Reborn has been collected into a comic! I'm very happy! Thank you very much!! Even though in this manga a lot of troublesome fellows show up, they are the first this author is presenting. So now, please enjoy yourself!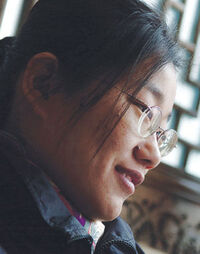 Akira Amano ((天野 明, Amano Akira?)) is a Japanese manga artist best known for her shōnen manga series Katekyo Hitman Reborn!.
Profile
Born in June 22nd, 1973, in the Aichi Prefecture, Japan, she began a job in Weekly Young Magazine in 1998. She also held a job at Shueisha Publishing Co., Ltd. She participated in a contest for aspiring mangaka in 2002. Amano was one of the lucky winners, with her comic Monkey Business published in Young Magazine.
In 2004, the one-shot manga Katekyo Hitman Reborn! written by Amano was published in Weekly Shōnen Jump. Due to the success of the one-shot, she started working on the manga, which officially began its serialization on May 2004. On October 2006, an anime adaptation of the manga was broadcasted on TV Tokyo and produced by the Japanese animation studio, Artland, and the English translation of the manga was also published by VIZ Media LLC. Since then, Reborn! slowly rose to fame and was adapted into light novels, video games, albums, as well as having numerous merchandise and Reborn!-themed concerts and plays.[1]
Amano also drew artworks for other popular manga series. One artwork is Sanji to celebrate the 10th year anniversary of One Piece, which was included in the collector's book One Piece 10th Treasures. Another is Reborn wearing a costume of Naruto Uzumaki, dedicated to the 10th year anniversary of the Naruto series.[2]
In 2011, Amano was one of the many manga artists who drew encouragement art for the victims of the 2011 Tōhoku earthquake.[3]
In 2012, Amano worked with the directors of Psycho-Pass to create character designs and concept art for the animated series. After the Reborn! manga and anime adaptation ended, Amano began work on another series known as ēlDLIVE, which began in 2013. Amano also drew HOT, one-shot manga that focuses on ice hockey, for the 35th issue of Weekly Shonen Jump.[4]
Gallery
Special art
Trivia
The Reborn! characters have also appeared in Akira Amano's early versions of the series that were meant for adult readers due to the violence that it contained. Amano has referred to most of her characters as "weirdos", and mentioned that though she changed the storyline's style starting from volume 8 of the manga, she still kept adding the weirdo characters.
References
External links